The Ultimate Guide to Fleet Management
To tackle the many aspects of fleet management, you need a clear-cut guide that outlines your responsibilities as a fleet manager and helps you optimize your role. Here is everything you need to know to maximize your company's fleet management benefits.
What is fleet management?
Fleet management encompasses everything regarding the operation of a fleet of vehicles. The size of the fleet does not matter. Some fleets may only have a handful of vehicles, while others may include dozens of trucks. The set of cars or trucks a company uses is its fleet, and the person in charge of maintaining those vehicles is the fleet manager.

Types of fleets
Fleets range from large to small. However, all have similar needs for maintaining the vehicles' safety to ensure they arrive at their destinations on time. Fleet managers could control trucking, delivery, commercial, or transport fleets, based on the types of vehicles driven and the cargo carried.
Trucking:

Trucking fleets tend to have large trailer-drawing tractors that transport high-volume loads. A trucking fleet may consist of dozens of trucks or only a few. These heavy vehicles have strict safety and compliance requirements due to their frequent long-haul cross country driving patterns and massive sizes.
Delivery:

Delivery fleets may transport local deliveries for businesses or parcel shipping companies. Often, products delivered to a distribution center by a trucking fleet vehicle will transfer to a delivery vehicle to reach their final destinations.
Commercial:

Commercial fleets often consist of multiple types of vehicles in large numbers. These fleets often serve many purposes for a company, such as cross-country shipping and local delivery, and may need multiple people to maintain and manage their operations.
Transport: Transport fleets may consist of vehicles such as rental cars, taxis, or rented moving trucks. In some cases, customers will drive these vehicles instead of employees. Transport fleet managers must take extra care to ensure the safety of vehicles that may have customers as passengers or drivers.
What does a fleet manager do?
Managing a fleet includes several tasks, such as ensuring compliance and safety, maintaining the vehicles, and tracking their locations.
Tracking
Tracking is one aspect of a fleet manager's job that informs other tasks. To coordinate vehicles, the manager must track their locations and know when each arrives and departs. When the manager knows where each vehicle is, they can use the information to create the most efficient driver and delivery schedules. Additionally, by keeping tabs on vehicles, the fleet manager can ensure that deliveries arrive on time and drivers maintain safe driving speeds.
Safety
Preventing incidents by maintaining vehicle and driver safety is part of the fleet manager's job. Training and driver monitoring systems can help drivers maintain their safe driving habits while on the road. Improving safety can reduce accidents, which reduces company liability and insurance premiums.
Safe driving also keeps vehicles running on time without incidents that could cause delays or cancelations in deliveries. With on-time deliveries, customers maintain their satisfaction for the fleet's services, whether those offerings are rental vehicles or product transport.
Compliance
Government regulations and state laws require careful compliance to avoid fines and disruption of business. The type of compliance that a fleet manager must adhere to depends on the types of vehicles and their driving patterns. For instance, trucks involved in trips across state lines must follow the guidelines of the International Fuel Tax Agreement (IFTA) to ensure that you pay the correct amount in fuel taxes on your vehicles based on their fuel usage, mileage, and which states they travel through.
Another instance of compliance involves commercial vehicles' use of electronic logging devices (ELDs). Under the Federal Motor Carrier Safety Administration (FMCSA), drivers who must log records of duty status (RODS) must have compliant ELDs installed on their vehicles. The ELDs store driver and vehicle information for downloading via wireless or Bluetooth connection when they return to the garage or during roadside inspections. Fleet managers must ensure their vehicles have ELDs that meet these requirements and that the devices continue to work as needed.
Maintenance
Maintaining vehicles involves both preventative maintenance and repairs. Regular oil changes, filter replacements, and tire checks can keep a vehicle operating at its peak on the road. Plus, regularly scheduled evaluations of the vehicle can identify small issues and correct them before they cause severe problems. For instance, a mechanic may find a leaking hose in a rental car during an inspection and replace it before the leak worsens and causes engine damage or a breakdown.
Routine maintenance can also prevent problems. However, issues may still occur due to the high mileage drivers put on fleet vehicles. When one of these vehicles breaks down, it will need prompt emergency repairs to get back on the road. The fleet manager needs to ensure the car or truck needing repairs gets proper service. They must also ensure a temporary replacement for the vehicle while it undergoes repairs.
With proper maintenance, fleet vehicles may last longer and operate at their best efficiency.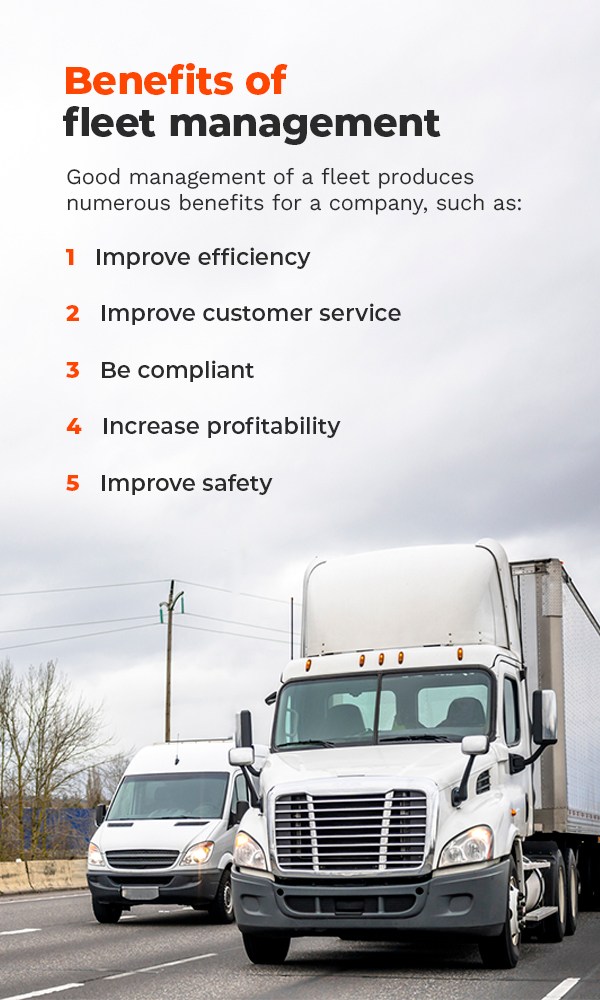 Benefits of fleet management
Good management of a fleet produces numerous benefits for a company, such as improved efficiency and better customer service. Even with an existing manager or team, a company can still see an increase in the advantages of good fleet management.
Improve efficiency
Good fleet management increases the efficiency of both the vehicles' overall performances and fuel consumption. Improving the efficiency of these attributes can save the company money over time. Well-maintained vehicles last longer, reducing the number of vehicle acquisitions required, other than for company expansion. Additionally, better fuel efficiency cuts the cost of operating a fleet by reducing the fuel bill.
Improve customer service
A well-managed fleet makes customers happier because deliveries of goods or services happen on time. For instance, in a trucking fleet, deliveries arrive on their estimated date with few delays outside unexpected events such as severe weather or traffic jams.
In fleets that cater directly to customers by providing them rental vehicles or rides, delays in the vehicle's arrival could produce unhappy customers. Managing a fleet to ensure that each customer has a ride when needed, even if some vehicles are not available, will keep customers from choosing another company.
Be compliant
Without good organization and documentation of vehicle attributes, your company could face regulatory fines. Fleet managers who keep information on vehicle maintenance schedules, driving distances, fuel usage, and more will be better prepared for completing the necessary paperwork to achieve and maintain regulatory compliance.
Increase profitability
By cutting costs through greater efficiency, your company becomes more profitable, even if income remains static. However, with the profits, your business has the funds to expand and add more vehicles to the fleet to serve more customers.
Improve safety
All vehicles need regular inspections, and vehicles that have issues while on the road need a full evaluation of the issue and correction before returning to the road. By keeping the vehicles well-maintained and tracking problems, fleet managers make their entire fleets safer.
In addition to increasing vehicle safety, well-organized fleet managers also ensure that their drivers don't exceed their scheduled hours on the road. By capping drive times, fleet managers prevent problems in their drivers, such as drowsy driving, that can lead to accidents.
Fleet management best practices
Even experienced fleet managers can always use some tips to improve their operations. The best fleet management practices focus on optimizing efficiency and improving the organization. Specifically, your fleet manager should consider focusing on customers, ensuring compliance, planning for procurement, and managing finances.
Focusing on customers
Customer focus ensures the satisfaction of your company's most important people — its clients. Fleet managers need to keep this in mind when making decisions regarding fleet operations. For instance, when acquiring new vehicles, a transport fleet manager should consider whether a rental car company customer would prefer to have a luxury vehicle or a small, compact model.
Another example concerns scheduling maintenance. How can a fleet manager schedule preventative maintenance for vehicles to balance time on the road to in the shop? Will skipping maintenance increase the chances of breakdowns and late deliveries? Choose preventative services that will make the customer happy by preventing delays in their product transport.
Ensuring vehicle compliance
Maintaining vehicle compliance helps a company in more ways than avoiding fines. For instance, many regulations, such as the requirement to use ELDs, reduce the time and paperwork required to track vehicle information. Having a compliant fleet ensures that the vehicles operate safely, the drivers are fit for the road, and the operating costs drop due to maintaining fuel efficiency.
Planning vehicle life cycles for efficient procurement
Fleet managers must carefully decide when to retire vehicles from the fleet and acquire new ones. Creating a new vehicle acquisition schedule should balance the costs and benefits of bringing a new car or truck to the fleet. These advantages and disadvantages include the price of adding any tracking or recording equipment to the vehicle, fuel consumption savings, reduced need for maintenance, and resale value of existing vehicles.
The timing of vehicle procurement can change over time because newer vehicles may last longer than older ones. For instance, modern vehicles produce fewer emissions, have better fuel efficiency, and operate more safely compared to older cars and trucks.
Managing finances well
Since fleet management handles high-price purchases of vehicles and expensive maintenance and repair costs, fleet managers must closely watch their finances. Everything becomes a balance of expenses for vehicles and income from customers. Fleet managers must continually track fuel costs, maintenance needs, repair costs, and new vehicle acquisition expenses and make sure these numbers don't add up to more than the money the fleet earns for the company and resale income from selling older vehicles.
A fleet manager should use good accounting software to track these values and use them for making informed business decisions. Some choices that finances can inform include planning purchases, selling old vehicles, expanding the fleet, or reducing the fleet size.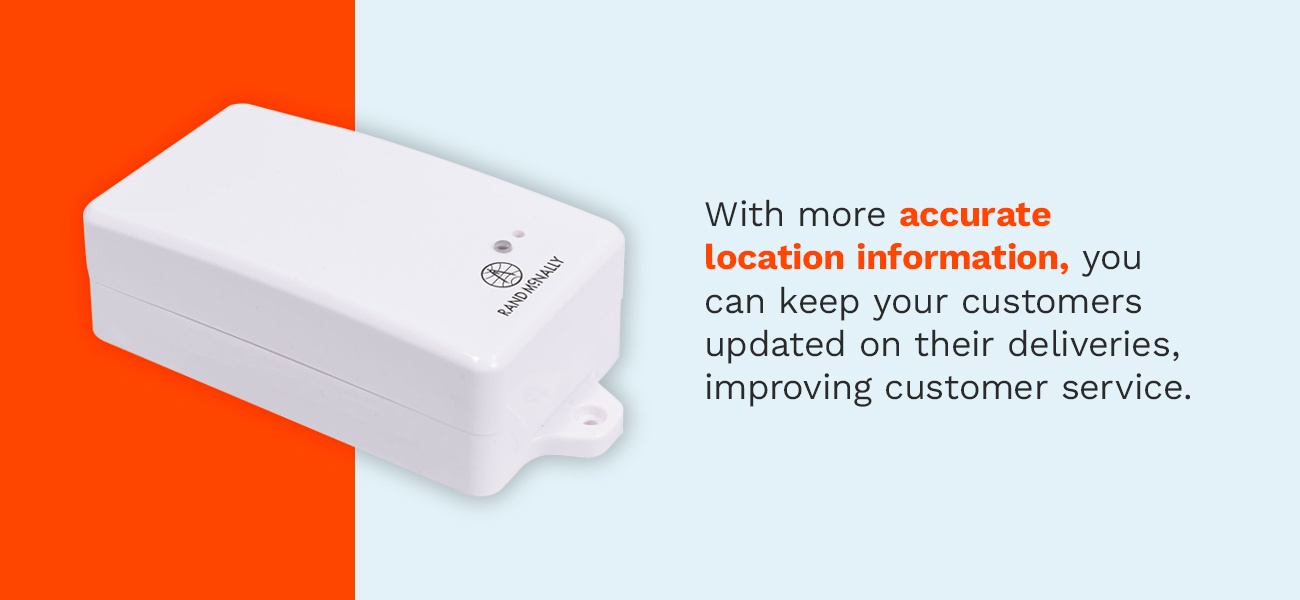 How fleet management software helps
Though fleet management has been a function for decades, some modern solutions for this job include high-tech options to facilitate the duties required of the manager. Software better tracks the multiple data points that you have to keep for each vehicle. Better organization of this information makes it easier for you to determine when vehicles need maintenance, safety checks, or upgrades. By using software and other technological upgrades to your vehicles, you can handle all fleet management aspects that you need to track to improve your operations.
For instance, to track mileage and vehicle locations, Rand McNally offers a pair of software options. MileMaker and IntelliRoute are solutions used by 91% of the nation's top 100 carriers. These systems can create customized routes that optimize travel time and mileage. Plus, you can track the distance fleet vehicles travel, which is essential for scheduling preventative maintenance.
Maintain IFTA compliance with software that includes IFTA reporting. By generating reports of fuel purchases, state lines crossed, and mileage in each state automatically, you can avoid problems caused by tracking this information manually, which could lead to mistakes that result in failure to comply with this law. The software allows you to calculate the amount of fuel taxes you must pay more accurately while lessening your chances of an audit.
Another way that fleet software can improve compliance is through tracking hours of service accurately. These hours play into the vehicle's Compliance, Safety, and Accountability (CSA) score. The CSA score ensures drivers' safety by measuring three attributes of their driving and fitness for driving – Safety Fitness Determination (SFD), Safety Measurement System (SMS), and interventions. By monitoring your drivers' hours of service, you can ensure that they do not exceed the required maximum driving limits.
To keep up-to-date on vehicle safety and maintenance, vehicle analytics is a vital aspect of record keeping. Through tracking vehicle codes and data about driving habits and engine vital signs, the analytic software makes it easier for your maintenance crews to fix problems before they cause breakdowns that can lead to late deliveries and unhappy customers.
Lastly, with asset tracking devices and software, you can monitor the location of deliveries. With more accurate location information, you can keep your customers updated on their deliveries, improving customer service.
If you still use paper to keep track of your fleet, you are missing out on the increased accuracy and control that using software can give you. Upgrade your fleet management system today with some of the above software solutions.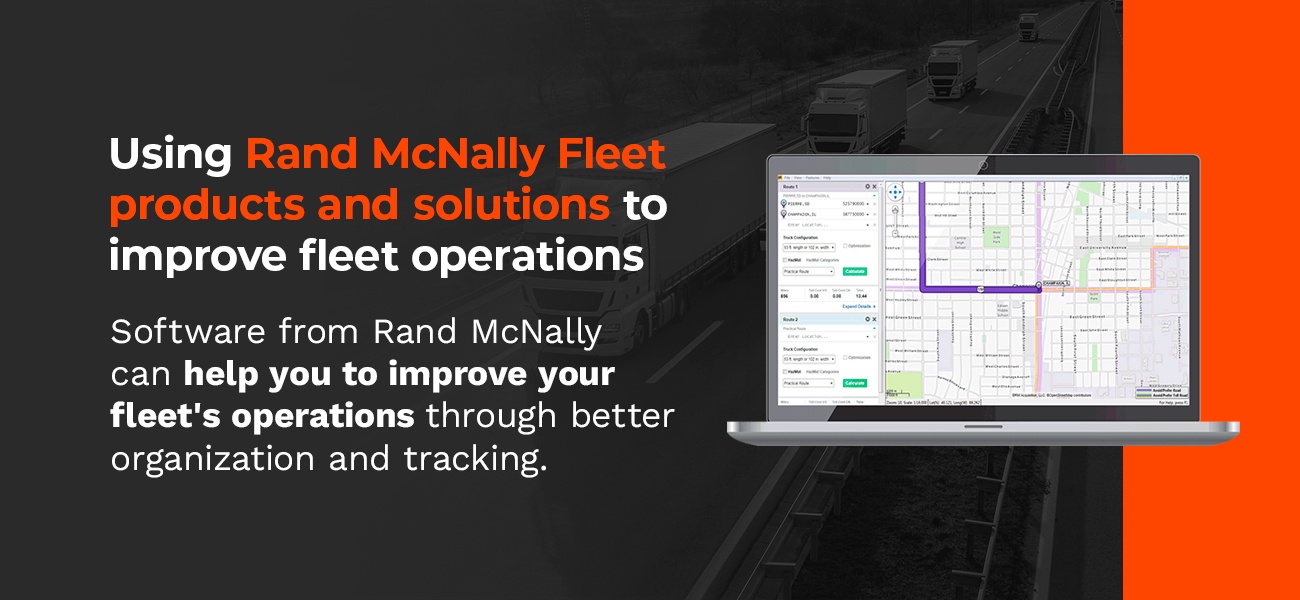 Using Rand McNally Fleet products and solutions to improve fleet operations
Fleet organization starts with using the right tools to track vehicle information, such as registration, maintenance, and location. Additionally, these tools should be accessible to even first-time users. Software from Rand McNally can help you to improve your fleet's operations through better organization and tracking.
If this fleet management guide has inspired you to improve your operations, find solutions from Rand McNally Fleet. Our software can provide you with a better way to stay organized and make it easier to track vehicles. For more information, to get a customized price quote, or to schedule a demo, contact Rand McNally Fleet.
Contact Rand McNally
Request Pricing for Fleet Solutions
---
We're looking forward to talking with you. Please fill out the form to get started.
Or call us:
+1 (800) 789-6277 (Fleet management, ELD, Asset tracking, Navigation)
+1 (800) 234-4069 x2 (MileMaker/IntelliRoute)


If you are an existing customer and need assistance, please contact your Client Success rep or email fleetsupport@randmcnally.com.

This form is for business-to-business transactions only. It is not for personal consumer use.