How to Choose the Best Fleet Management Software
Choosing the best software to manage your fleet requires some research to identify options that meet your company's needs. With an understanding of how to choose fleet management software, such as key features that will make your job easier, you can quickly find a software solution to improve the efficiency of handling your fleet.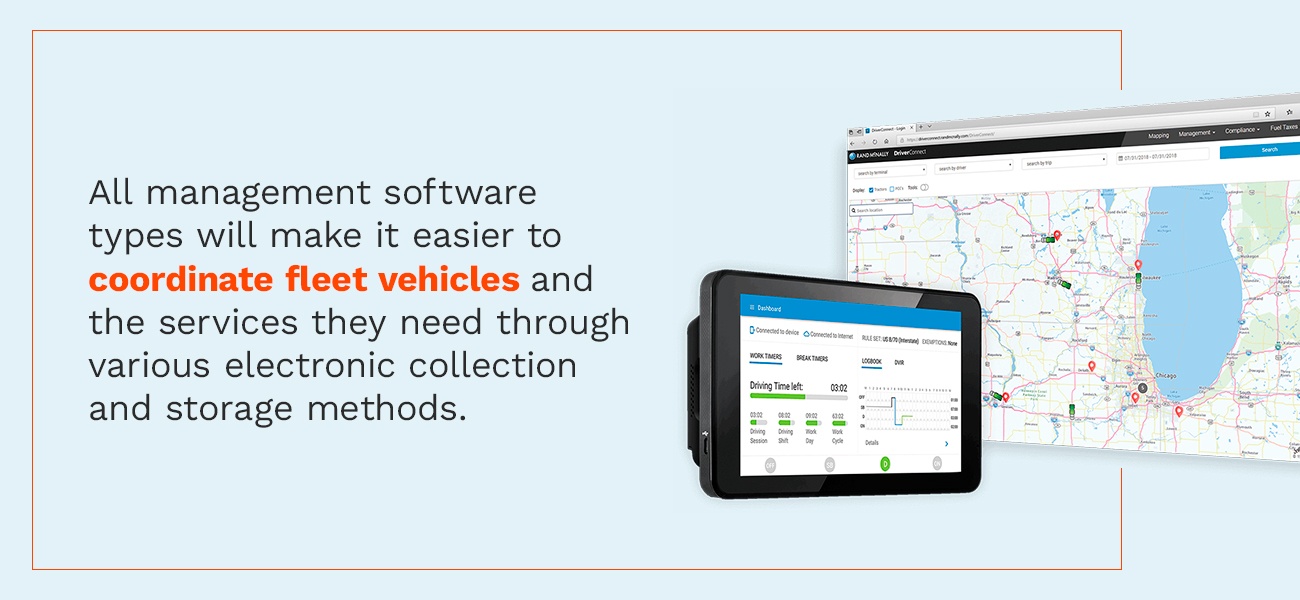 What is fleet management software?
Fleet management software is utilized by companies or organizations to help manage and operate a fleet of vehicles. The software encompasses more than a single computer program — it's only one part of an extensive electronic fleet management system. Your system may include devices installed on vehicles, mobile apps, platforms, and software.
The number of vehicles in a fleet can range from small fleets of a half-dozen company service trucks to large groups of hundreds of delivery trucks. Fleets may travel across the city or the country. Therefore, the specific needs of a fleet for its management software program may differ from another fleet's needs. However, all management software types will make it easier to coordinate fleet vehicles and the services they require through various electronic collection and storage methods.
Using electronic data through a fleet management program prevents lost paperwork or human error in misinterpreting paper records. The transfer to electronic record-keeping already applies to many commercial vehicles on the road. For example, transport trucks and commercial buses must use electronic logging devices (ELDs), per the Federal Motor Carrier Safety Administration (FMCSA). If you're required to use them, you might as well use take advantage of the data from ELDs to improve record-keeping.
One way that these devices can help with managing a fleet is through the information they gather. ELDs collect information about records of duty status (RODS) for use in safety audits or during investigations. The information collected includes the hours of service (HOS) for the driver. A fleet manager can aggregate this information and ensure its accuracy to optimize scheduling to avoid over- or underworking drivers. Solutions that connect ELDs to a cloud platform also allow fleet managers to check a driver's status at any time from a computer, tablet, or mobile phone.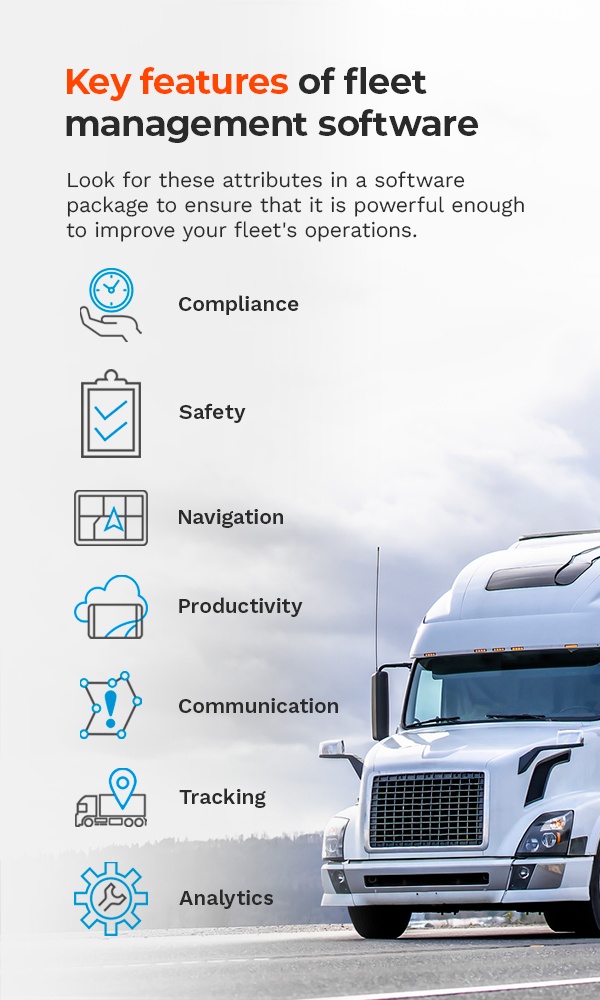 Key features of fleet management software
Fleet management software benefits come directly from the available features and how your company uses them. A fully featured software package should help your company be compliant, improve safety, assist drivers with navigation, increase productivity, improve communications, track vehicles and assets, and collect vital statistics. Look for these attributes in a software package to ensure that it is powerful enough to improve your fleet's operations.
Compliance
Software should assist with regulatory compliance. For instance, because trucks and commercial buses must carry ELDs on-board for monitoring HOS, a management software package should include these devices. Additionally, the devices must meet the FMCSA requirements. The driver and fleet manager should both have access to the information and make changes to reflect more accurate drive times and unaccounted hours on the road. The system should also permit safety inspectors at roadside stations to download the information for compliance verification.
Another regulation that your fleet vehicles may need to meet is Driver Vehicle Inspection Reporting (DVIR) for ensuring vehicle safety. This method tracks problems and the condition of the vehicle over time. The Compliance, Safety, and Accountability (CSA) guidelines measure seven attributes, including driver fitness, vehicle maintenance, driving habits, crash reports, HOS, and use of controlled substances. If a vehicle undergoes an investigation, the inspector may require maintenance records to stay onboard the vehicle. Having DVIR can help with this aspect of compliance.
International Fuel Tax Agreement (IFTA) is another rule that your vehicles may need to comply with, especially if they travel long distances across state lines. This agreement ensures that you pay the correct amount for fuel taxes. Your fleet management software should monitor vehicle mileage within states and when vehicles cross state lines.
Safety
Vehicle and driver safety is crucial for the wellbeing of those working in your fleet, others on the road, and your profits. Accidents or breakdowns cause delays in deliveries. Poorly maintained vehicles reduce the size of your fleet during repairs. Having a fleet management software that monitors vehicle health and driver habits helps to mitigate these costly issues.
Using appropriate monitoring devices on vehicles that correct or alert drivers of harsh driving can reduce accidents by training drivers to change poor habits, including speeding, harsh braking, or rapid acceleration. Safer drivers will help get assets or services delivered on time and keep customers happy.
Navigation
Driving routes should not waste mileage or time. A quality navigation system with fleet management software should optimize drivers' routes, whether they carry passengers or cargo. Look for navigation attributes such as efficient route planning and useful information for the driver, such as toll locations and costs, fuel station locations, traffic updates, and more.
Productivity
Efficient operation of vehicles to reduce fuel consumption, improve route efficiency, and increase compliance and safety will all make your fleet more productive by reducing downtime for accidents and maintenance. The most effective fleet management systems should provide a full package of options for vehicles, drivers, and managers to maximize fleet productivity.
Communication
Communication with drivers is vital. However, drivers must be able to communicate safely without taking their hands off the wheel or their eyes off the road. Hands-free communication options allow drivers to correspond with others without compromising their performance on the road.
Tracking
Tracking vehicles and assets gives you information about travel time and alerts you to any potential delays in the arrival of deliveries or vehicles. Software solutions for managing a fleet should accurately tell the fleet manager where either assets or vehicles are at all times.
Analytics
Analyzing the performance of a vehicle can help fleet managers plan preventative maintenance or determine when a vehicle needs an inspection to address a growing problem. Analytics for management software should also collect information about driver habits to allow the fleet manager to improve training in safe operations on the road for those drivers who spend too much time idling, braking harshly, or speeding.
How does fleet management software work?
Fleet management software is only one part of an entire system that combines in-vehicle devices, software, apps, and a main platform to create a method of gathering, reporting, and transmitting data in real-time.
Devices:

The software provider installs devices inside fleet vehicles. These devices should have ELD attributes as well as a means of communicating navigation or other essential information to the driver. The size of your fleet determines the number of devices you need.
Software:

Software that installs on your fleet manager's computer connects with the devices or apps to gather information in reports or to communicate with drivers. While the software installs on a computer, it may also connect to a cloud-based storage platform, as

Rand McNally's fleet management software

does.
Apps:

Apps are how the fleet management system connects to driver or fleet manager mobile devices such as phones or tablets. These apps make the information collected from vehicle devices accessible from anywhere.
Platform:

The main platform for managing a fleet is in the cloud. When you use a cloud-based system, anyone with authorized access to the fleet management system can view the information from vehicle devices or the software. Using a cloud-based platform, fleet managers can save space on their computers and not rely on a single office-based device to connect to the platform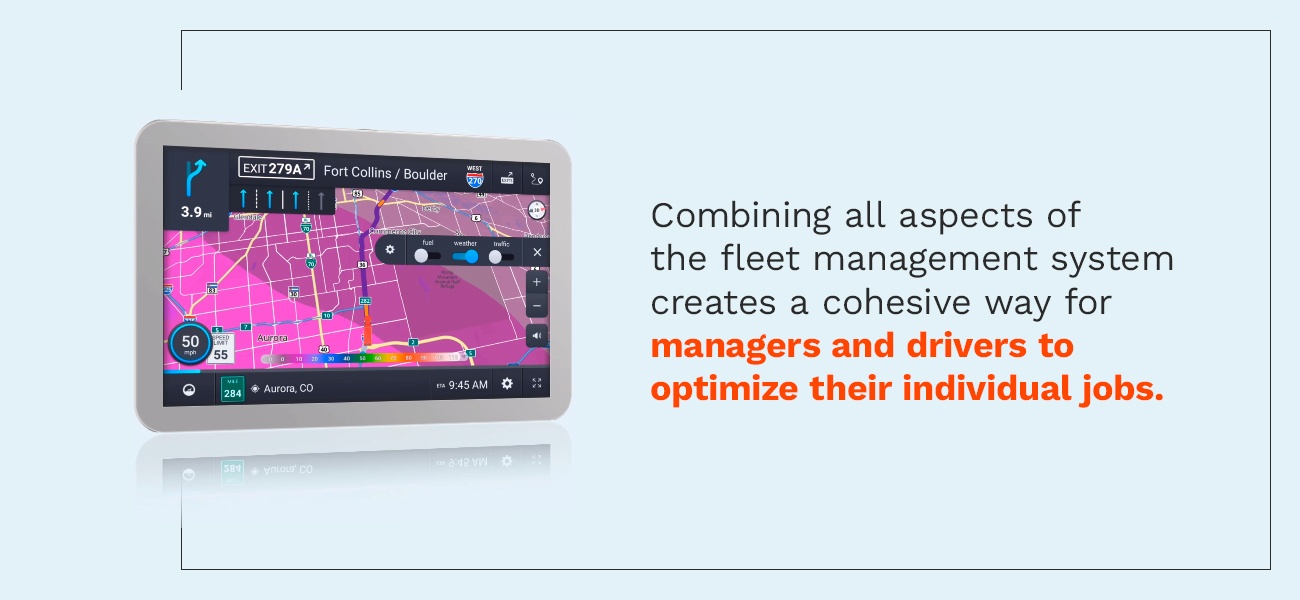 Putting them all together
Combining all aspects of the fleet management system creates a cohesive way for managers and drivers to optimize their individual jobs. Devices gather information from the vehicles about driver habits and vehicle performance. A fleet manager can access this information from an app or software on their computer via the cloud-based platform to look at trends, view reports, and more. The many ways of interacting with the system make it more convenient for managers and drivers to remain connected, even if they're on opposite sides of the country
Considerations for choosing the right fleet management software
When comparing several software solutions, consider some of the following aspects and how they will impact the benefits that you get from the software.
Features:

Match the features the software offers to what your fleet needs. For instance, if you have long-haul truckers, you might want to invest in software that includes ways to optimize routes and improve driver safety.
Flexibility:

Your business will go through changes and you need a fleet management software that is adaptable so you can scale features and benefits as needed.
Customer support:

Eventually, you may need some help with the software. A strong customer support system from the software provider can ensure that a minor technical problem with the software does not cause an unnecessary delay in operations.
Installation:

How easy is the installation of the devices on your fleet vehicles? Will you have to do this process yourself, or will the software provider do it? Also, ask about the cost for installation and activation of the software. Don't forget these aspects when choosing the best fleet management software for your company.
Process for choosing the best fleet management software
Rather than making a quick choice for a fleet management program, follow this process to narrow down the numerous options you have to find one that works for your company. To start, you have to know what your business needs from the software before you can identify programs with the features that will improve how you manage your fleet.
Define goals
Before identifying the right software for your company, you need to know what your company needs to get from the program. If you currently use fleet management software, identify any flaws or gaps in the features you need. For instance, can your existing software monitor for harsh driving such as braking hard or rapid acceleration? Do you need to monitor for this?
When defining the goals that you have for your new software, also outline how you will measure whether you have reached those goals. If you want software to help your fleet increase fuel efficiency, for example, what is the minimum increase you want to see to prove the software works?
Research options
Research the options available in your area that fit your budget. Since fleets differ drastically in size, you will likely need to request customized pricing for fleet management software based on the type of fleet you have and the number of vehicles.
As you gather information during your research, eliminate programs that don't offer fleet management software features that will help you to attain your company's goals for the operation of your fleet. For instance, if you need speed monitoring, don't request a demo of a system that does not offer it.
Request demos
Once you've narrowed down the options as much as possible from research, try each out by requesting demos. This step allows you to get a first-hand feel for the features and to see how well your company may benefit from the software system. Since software for your fleet is a significant investment, you should have the chance to learn more about the program before buying it. Compare products during the demos to find the best solution for your company's fleet.
Choose a software option and have it installed
Once you've chosen an appropriate fleet management program, have the devices and software installed on your fleet. Because you don't want to put your entire fleet out of commission for installation, have the software provider come multiple times for installation in groups of vehicles to minimize service disruptions.
Train drivers and managers in using the new program
As with any new system, you will need to train all your drivers and fleet managers in using the program properly. Schedule regular training sessions and encourage drivers and managers to use the software.
Reward those who properly use the program to encourage buy-in
Because some managers or drivers at your company may be wary of the software change, offer rewards for those who properly use the programs for improving their driving habits or otherwise show the benefits of fleet management software use.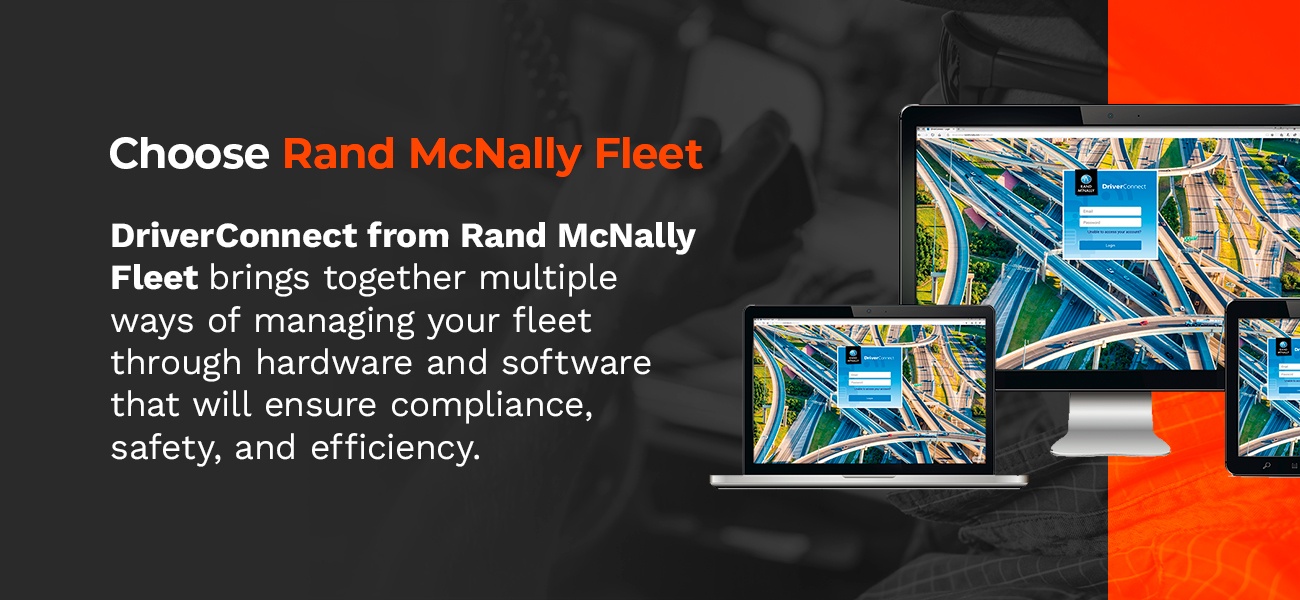 Why choose Rand McNally Fleet
Knowing how to choose the best fleet management software should lead you to select a solution that will improve your fleet's operations while maximizing company profits and reducing costs. For fleet management, Rand McNally Fleet brings together multiple ways of managing your fleet through hardware and software that will ensure compliance, safety, and efficiency.
With more than 80 years of experience in the transportation industry, we put our knowledge of this sector to use in helping fleet managers to improve every aspect of their work. Even as our company has changed over the years, it continues to grow with innovative products to enhance fleet operations.
For more information about our fleet management software or other Rand McNally Fleet products, please browse our site. If you'd like a demo or to ask for a price quote, send your request to us today.
Contact Rand McNally
Request Pricing for Fleet Solutions
---
We're looking forward to talking with you. Please fill out the form to get started.
Or call us:
+1 (800) 789-6277 (Fleet management, ELD, Asset tracking, Navigation)
+1 (800) 234-4069 x2 (MileMaker/IntelliRoute)


If you are an existing customer and need assistance, please contact your Client Success rep or email fleetsupport@randmcnally.com.

This form is for business-to-business transactions only. It is not for personal consumer use.