2023 Trends in Fleet: The Future of Fleet Management
Fleet management trends change rapidly as technology develops and common procedures evolve. Following and tracking fleet industry trends over time presents a perfect example of how new technology can change the future of fleet management.
2020 showed us how we can improve our shipping policies and how we manage our fleets. Fleet management trends in 2021 opened the door for new and improved shipping systems as we adapted and learned to handle all scenarios better — and plan for the unexpected. Heading into 2023, we must keep preparing for all circumstances by using new technologies and paying attention to the fleet industry's ebbs and flows. Learn about how you can take part in creating the future of fleet management with upcoming trends.
What Changed for Fleets in 2021 & 2022
In 2020, the COVID-19 pandemic impacted many aspects of fleet management by pushing people to adapt and grow during unforeseeable and continually evolving circumstances. A few notable changes included the following:
Health & Safety Procedures:

To keep drivers safe, executives put new cleaning routines in place and required employees to wear PPE. Curbside vendors now offer vehicle sanitation services for ease of access.
Remote Fleet Management:

Fleet members needed to meet remotely, and fleet managers had to monitor their team through software. Implementing technology allowed managers to track data and manage their teams from a safe distance.
Increased Demand:

As many people were ordering online, the need for shipping skyrocketed. More people opted for delivery services to stay safe in their homes.
These changes carried into 2021 and 2022 - and will continue to impact the industry for years to come. The last two years pushed companies to innovate and inspire, and that spark will continue to promote improvements in regulations, technology, and cost management.
What Fleets Can Expect in 2023
The past 3 years have brought forth a demand for innovation. To overcome the challenges of 2020, people worked to create solutions and improvements that allowed businesses to continue functioning. Based on these developments, we can expect several different fleet management trends in 2023.
Supply Chain Issues
One of the most enduring characteristics across industries since the beginning of the pandemic is the presence of supply chain issues. Many stores struggle to keep their shelves full because fleets can't get in-demand products. In some cases, fleets can't acquire enough vehicles to meet their shipping demands, forcing them to use older trucks that are more likely to break down and contribute to supply chain issues.
You can even trace this issue back to suppliers and manufacturers, as even they are experiencing shortages that affect their product output. Your best course of action is to plan for supply chain issues to continue into 2022 while being realistic in hopes they'll start to even out. Keep your clients up to date on availability and turnaround time to ensure everyone maintains reasonable expectations.
Telematics
Telematics became increasingly popular in 2021 and 2022, as this technology provided a way to get real-time updates and track vehicles. Video footage can help prevent false claims and improve driver safety while also providing valuable instructional opportunities.
A few features of telematics include the following:
Vehicle Tracking:

You can track your vehicle's location, estimate delivery times, and find the closest driver for new jobs.
Insurance Assessment:

Insurance companies can use telematics to track driver data and determine any risk factors with their driving.
Maintenance Updates:

Monitor the number of hours the vehicle runs and the engine diagnostics. Save money by staying on top of repairs and fleet maintenance requirements.
With GPS tracking and in-cab video, telematics systems were incredibly popular in 2021 and 2022, and will continue to thrive in 2023. These systems make communication simple and help increase driver safety. Performing workflow objectives remotely saves time so your team can focus more on excelling at their work.
Safety
Along with increased telematics usage, fleet trends in 2023 will see a heightened emphasis on safety. In addition to stricter cleaning regimens to prevent the spread of disease, there will be a focus on new technology for maintaining driver safety. For example, in-cab devices will allow drivers to receive alerts about excessive speed, seatbelt usage, and reckless driving. Managers can address these problem areas to keep the driver and others safe.
After analyzing the information, managers can assess their performance and create new standards for drivers. The technology and collected data will let them develop new policies to improve driving records. Investing in your vehicles will also reduce accidents and behavioral risks, which will save you money in the long run.
Navigation
GPS technology has become a staple for fleet operations, with most companies considering it indispensable. With robust software with GPS technology, drivers can pre-plan their routes, get live updates, and manage their time, all on the road. GPS offers real-time updates, and when combined with telematics, can connect you to your drivers at any time.
GPS services can find the best routes to enhance productivity and monitor idle time to ensure team members are staying on the job. The number of people using navigation technology in their vehicles will continue to climb in 2023, so investing in a quality service is a wise move.
Remote Fleet Management
Remote fleet management has become the future of fleet management. Most of the fleet trends for 2023 and the following years relate to remote fleet management. Electric logging devices are part of this system, helping drivers follow active and rest period requirements. Transparency in operation allows managers to know how their drivers are doing without physically being there.
Fleet managers can track mileage, departures, arrivals, and routes from their mobile portal. This service allows fleet management to be fully remote while still increasing productivity. Drivers and managers can complete all tasks in the same system rather than multiple outlets that take up valuable time.
Some of these systems do not require any hard wiring to install, so this technology will continue to expand in the industry. Fleet management software can maximize your time and budget throughout the year. Get real-time data on your efficiency, road safety, and fuel expenses to avoid extra costly situations.
5G Technology
5G has slowly been rolling out in various metropolitan areas around the world throughout 2021 and 2022. Fleets that have transitioned to 5G are experiencing the faster data transfer speeds that are possible with this technology. Current fleet trends for 2023 point to 5G becoming more accessible, which can contribute to an expansion of 5G-compatible hardware for fleets and fleet management teams.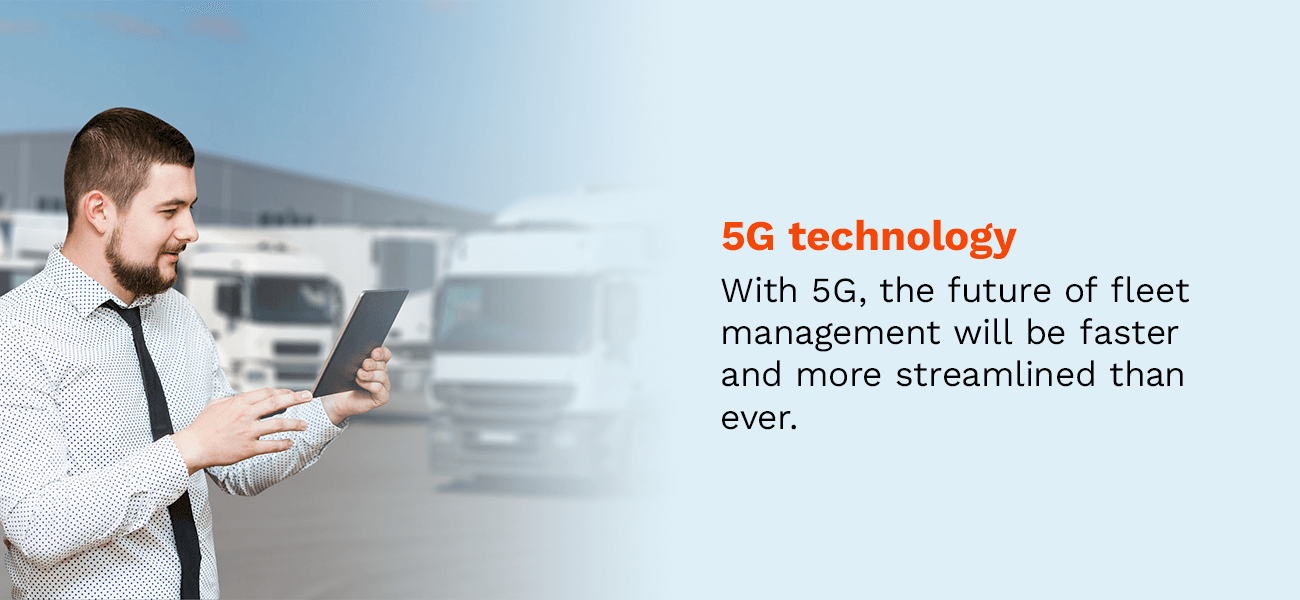 With 5G, the future of fleet management will be faster and more streamlined than ever. Already, fleet managers are communicating with their drivers with greater reliability than in previous years. With 5G, managers can receive more accurate telematic data, regardless of weather conditions or other factors that can reduce quality. More fleets will embrace 5G in 2023, translating to positive outcomes across industries.
High Fuel Costs
Inflation, supply issues, and various geopolitical factors have contributed to rising fuel costs throughout 2021. This increase continues to put a strain on budgets and shrink profit margins.
Fleets around the country and the world are finding new ways to reduce fuel consumption to save money. With telematic technologies, fleet managers can ensure their drivers are avoiding excessive idle time and reaching their destinations using the shortest routes possible. Some fleets are even transitioning to electric vehicles to cut back on fuel costs, which you can read more about below.
Electric Vehicles
Electric vehicles are a buzzed-about topic for fleets and individual drivers alike. They are environmentally friendly, and their operating cost is typically lower than that of a traditional gasoline engine. As they grow in popularity, the maintenance costs have become more affordable as well.
As EVs continue to evolve, the costs of owning one have become increasingly realistic. If you want to invest in or rent new vehicles, EVs are an environmentally sound option that can save you money in the long run. Additionally, multiple companies are working to develop electric heavy trucks that can take this technology to the realm of the long haul, so further innovation throughout 2023 is highly likely.
Explore New Fleet Management Solutions
Remote fleet management gives you data, communication, and documentation right at your fingertips. This powerful technology lets you keep track of your fleet and stay connected so you can improve efficiency, enhance driver performance, and provide the real-time updates customers expect in today's marketplace.
If you are looking for fleet management solutions for your team, we offer premium services to make remote management and organization simple. Contact us today to request a demo or pricing information.
Contact Rand McNally
Request Pricing for Fleet Solutions
---
We're looking forward to talking with you. Please fill out the form to get started.
Or call us:
+1 (800) 789-6277 (Fleet management, ELD, Asset tracking, Navigation)
+1 (800) 234-4069 x2 (MileMaker/IntelliRoute)


If you are an existing customer and need assistance, please contact your Client Success rep or email fleetsupport@randmcnally.com.

This form is for business-to-business transactions only. It is not for personal consumer use.