The Ultimate Guide to Fleet Safety
Implementing a fleet safety program, whether you manage a nationwide operation or local business, can foster safer operations while improving driver protection and reducing monetary losses. Vehicle accidents are among the most costly injury claims for businesses that manage a fleet, which is why a fleet safety management program is crucial in keeping your drivers safe and eliminating preventable accidents.
While different companies may implement various fleet safety guides, there are a few factors for managers to focus on as they learn how to develop a fleet safety program. Key elements include driver selection, safety guidelines, vehicle maintenance, training, and incentives.
Why You Need a Fleet Safety Program
Understanding why you need a fleet safety program comes down to fleet efficiency and driver protection. A fleet driver safety program uses multiple strategies and pieces of technology to improve operations by reducing accidents, lowering costs, and preventing false claims.
A safety program is a coordinated effort between management and employees to improve driver safety while also giving you more effective control over fleet operations. The goal is to establish policies and procedures that will ensure a safe work environment for the entire company while helping to protect you from liability.
Many accidents are preventable with the proper education, so consistent and ongoing screening, testing, inspection, and training are key. Several benefits of developing a fleet safety program include improved fleet efficiency, employee satisfaction, and overall safety. Each element of your fleet safety management program must be up to date and should be a comprehensive part of your company's culture.
These programs begin with a commitment from management, then a careful selection of drivers and their specific duties, and consistent training programs. Other aspects include the ability of management to provide feedback on a monthly or yearly basis, manage accidents, establish new policies and expectations, and maintain vehicle inspections, repairs, and maintenance.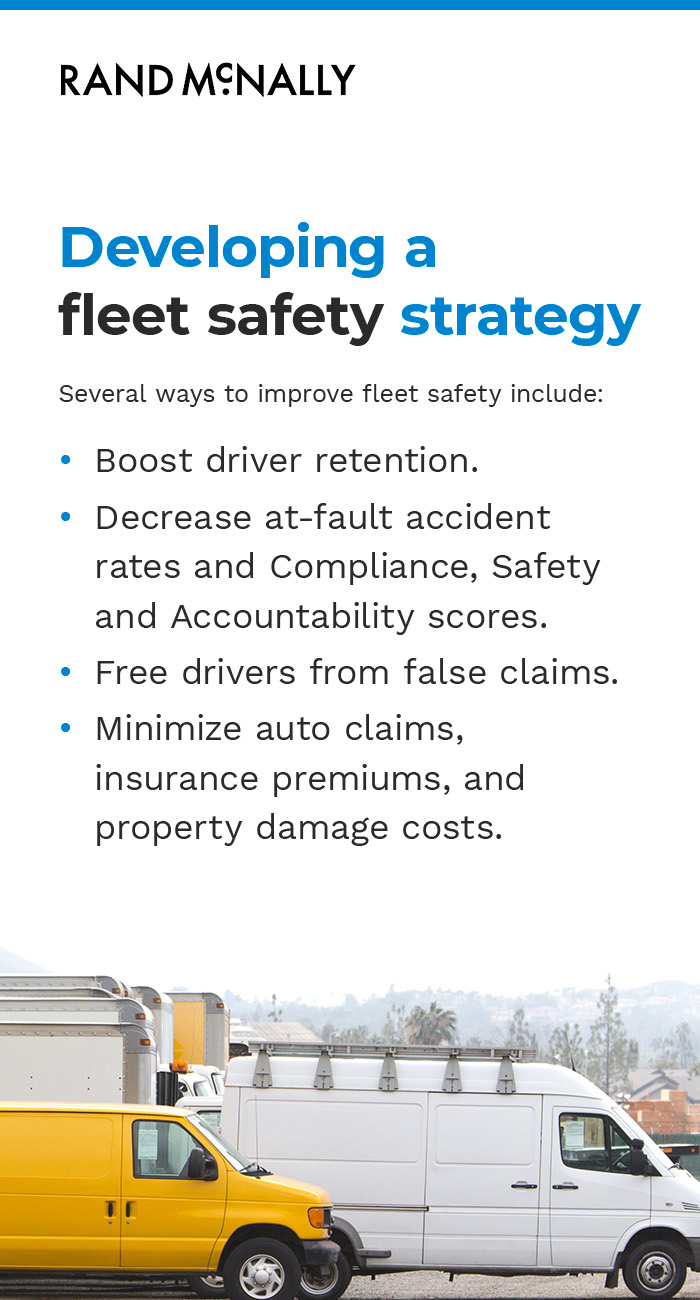 Developing a Fleet Safety Strategy
There are several reasons to implement a fleet safety program with an overarching goal to develop a positive safety culture. If you, your management personnel, and drivers are committed to learning how to improve fleet safety, the program can be more effective.
Step one is to plan ahead and identify problem areas. For example, your fleet may be experiencing an increase in at-fault accidents or risky driver behavior. Start by reviewing your most current safety-related incidents, like claim payouts, distracted driving, accidents, speeding, and other factors.
Next, define your goals by addressing the problem areas you explored. It's ideal to set a numerical goal, such as a 25% reduction in at-fault accident rates to lower insurance premiums, as opposed to defining a goal with no measurable results. Write out three attainable goals that you can alter as the program progresses.
Several ways to improve fleet safety include:
Creating a safety-first culture should be a priority, and the goals you create should parallel the weak points of your operations. Management must be committed to showing the seriousness of the program and that it's been embraced.
The third step is to create a plan with a specific timeline to keep you organized and ensure successful deployment of fleet safety efforts. Determine if regular meetings are necessary for your fleet and management team. One-on-one and group meetings can help keep everyone accountable and can assist in tracking safety program progress over a long period. The timeline should also include key milestones that need completing before moving on to the next step so you have attainable goals throughout the whole process.
Step four is the rollout phase in designing fleet driver safety best practices. You'll want to partner with a technology company that supplies dash cams and telematics so you can receive critical data from each driver in your fleet. With both devices, you can pinpoint specific trouble areas and which ones you want to target and improve. You'll also want to ensure the technology has alerts for different target behaviors.
Deploy the proper technology and configure the dashboard, then determine who will have access to the camera footage. Make sure your entire team is clear on predetermined goals within the program. Being transparent is essential for good training and communication. Establishing consistent and strong training for drivers is also imperative. Once everyone understands and is implementing your main fleet safety goals, you can begin to establish more elements into the program, such as rewards.
The final step is to measure your return on investment and analyze the results of the fleet safety program.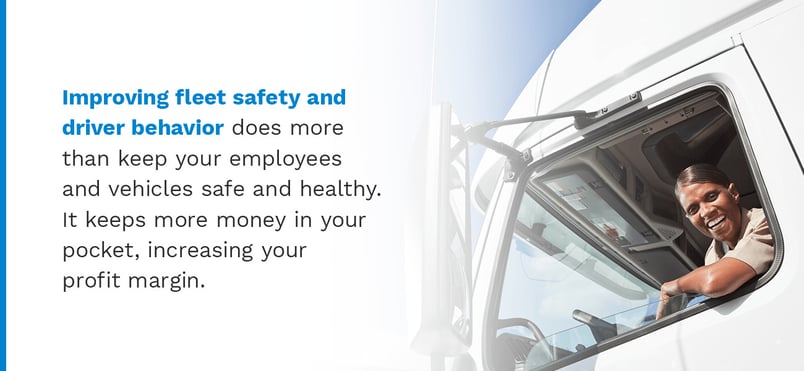 Fleet Safety Best Practices
Companies with strong safety cultures experience fewer safety-related incidents because their employees are more engaged.
As you're planning the best practices for your fleet safety program, consider the internal buy-in from the entire team, including drivers, stakeholders, and executives. Hold meetings to discuss goals and implementation, especially if you're using dash cams and other forms of technology that analyze driver behavior.
Driver selection, safety guidelines, vehicle maintenance, training, and incentives are imperative aspects to consider for your fleet safety program guide:
1. Driver Selection
The process of hiring drivers needs to be efficient but carefully executed to create a safe and reliable team that's dedicated to the fleet safety program. Set high and consistent company standards, and uphold those from the Department of Transportation.
Whether you're looking to expand your fleet or need to replace a retired driver, you will want to take great consideration for your next employee. Things to examine include:
Background check
Driving record
Drug and alcohol abuse
Motor Vehicle Record (MVR)
Moving violations
Past professional experiences
Physical exams
Traffic violation history
A Motor Vehicle Record (MVR) allows you to compare an applicant's legal record of minor and major moving violations and serious accidents within the past five years. You can get MVRs from the Department of Motor Vehicles. Requiring a detailed employee application with information about past employers and driving history is also helpful. Here, you can look for gaps and contact the person's previous employers to inquire about safety records, drug or alcohol use, and the type of work they performed.
You can also investigate the DOT safety performance of commercial truck drivers through The Federal Motor Carrier Safety Administration's Pre-Employment Screening Program (PSP). Obtain a three-year history of inspection and violation history and a five-year history of recorded crashes. Both the MVR and PSP can give you greater insight into the applicant's abilities.
Next comes the interview process, where you and your team can get to know the applicant on a personal level and ask open-ended questions. Consider having multiple people from the company at the interview to get a balanced assessment.
When you're ready to move forward with a candidate, require a pre-employment drug test, as well as a road test to understand the driver's awareness behind the wheel and how they handle different driving situations. Keep driver screening documents and other files that relate to the hiring process for future reference.
Once you've curated a dedicated fleet of drivers, you will need to get them to buy into the dash cam program. Some may be skeptical at first, but the key is to encourage driver engagement. For example, focus on bottom-up engagement compared to top-down control. This can make your fleet safety program more effective because drivers are invested and proactive in making significant safety improvements.
Overall, driver retention starts with a solid hiring process that includes an interview, background check, road test, and training. Hiring committed, loyal, and long-term drivers can help your company by reducing driver replacement and accident and repair costs while also increasing productivity.
2. Safety Policies & Guidelines
Knowing how to improve fleet driver safety means you must create policies that address different vehicle operators like casual, fleet, or personal drivers. While safety rules may seem obvious, it's imperative to set the standard for drivers and management. Common rules include:
Maintaining cleanliness of vehicles
No use of alcohol or drugs
No use of electronic devices when driving
No use of radar detectors
Obeying road rules and laws
Prohibiting unauthorized passengers
When any of your safety policies are broken, disciplinary procedures should be in place and be consistent across all employees. Standard operating procedures that all drivers must adhere to, like driver qualifications, licensing, responsibilities, and accident procedures, are also critical.
Setting reasonable and efficient driving schedules to improve safety is another factor to consider. Avoid trips where drivers feel rushed to complete their duties. The best way to avoid this is through clear communication to find an ideal balance, which may be different for each person. Flexible scheduling also helps with unexpected events.
Have an accident report protocol that discusses how drivers should retain evidence, documents, and communication following an accident to help mitigate losses. An accident response protocol helps drivers prepare for how to respond and report accidents. All accidents should be reported and investigated by management or other qualified personnel to determine the cause. When management and drivers are aware of the root cause, it can help reduce the probability of reoccurrence.
Well-defined procedures for drivers may include the following:
Stop and protect accident area.
Tend to any injured people.
Contact company.
Don't make any statements accepting responsibility of accident.
Address facts of event.
Thorough accident investigations can help improve driver selection, vehicle inspection, and altered traffic routes. Each year, review the safety policies you have in place with legal counsel to see if improvements are necessary.
3. Vehicle Inspection & Maintenance
A fleet safety program isn't solely about monitoring your drivers. Knowing how to improve your fleet safety program also includes vehicle inspection and maintenance. Regular maintenance helps reduce the costs of unexpected breakdowns and helps prevent accidents caused by damaged parts.
Each driver should follow an inspection procedure to ensure safe operating conditions. Regular inspections that are documented and assessed to see if further maintenance is necessary help with early detection of defects or vehicle issues. Neglecting regular maintenance and inspections can affect your business in the long term by increasing repair costs, putting drivers at risk, disappointing customers, and receiving fines and violations.
Most of all, fleet maintenance comes down to safety. Even minor issues can lead to serious consequences. Maintenance program priorities often include:
Brakes
Electrical components
Lights
Mirrors
Physical damage
Tires
Wheels and axles
Overall, a preventive maintenance program reduces operational costs and accidents while increasing driver safety. Maintenance and inspections should happen on a scheduled basis and include oil and filter changes and inspection of the belts, brakes, lubrication, tire rotation, hoses, radiators, and other crucial vehicle components. Engines, transmissions, and drivetrains require more major work that should be performed when needed.
4. Training & Education
Consistent and upgraded training is critical for both management leaders and drivers. One approach is to conduct training in phases. For example, train your supervisors and core team first, then, they can train other staff members and drivers. Mandatory training programs help everyone understand the safety policies and procedures. You can also hold regular meetings to discuss company rules, regulations, defensive and backing techniques, adverse weather, maintenance, accident reporting, emergency procedures, and other topics.
General meetings are great for the entire fleet, while one-on-one trainings are more hands-on — especially when corrective actions need addressing. In these instances, it's important to have a predetermined safety threshold and appropriate one-on-one conversations with those who drop below it. Conduct regular coaching sessions in groups and personalized sessions for drivers who go below the safety threshold. Have a standardized script for these instances to eliminate biases.
Ongoing and remedial training create a consistent safety policy for your entire team to follow.
5. Incentives
When employees feel they are recognized, they tend to work harder, which is where fleet safety incentives come into play. Before implementing rewards, ensure your operators have a strong sense of community safety and believe in the safety culture of the company. As drivers begin to increase fleet safety, you can implement rewards, such as:
Bonuses
Company gear
Companywide recognition
Gift cards
Invite-only lunches with leadership
Monetary gifts
More vacation days
Plaques
Special privileges
Incentives for the safest drivers help increase engagement and retention while also reducing risky behavior. A safer fleet benefits everyone, but incentives are not a replacement for a proper fleet safety program. It's more like a supplement to promote safe driving. Friendly competition can also be part of the reward system. This relates to gamification — when an activity is fun, people are more likely to do it. Some systems have virtual safety scoreboards that encourage friendly competition.
No matter which incentives you choose, determine the unit of measure you want to base success in and reward drivers by digitally tracking their scores and improvements.
How Fleet Management Technology Helps
The best safety practices for your fleet are made more efficient and possible with management technology, such as video-based safety solutions. Telematics and dash cams for real-time GPS can reduce safety-related accidents. Technology helps you monitor aspects like speeding, braking, distractions, and location. Dash cams and telematics track driver performance and overall safety of each driver's safety score based on behavior metrics. This can help you determine pain points and goal creation.
You can also set up alerts for behaviors like harsh braking, distractions, rolling stops, and speeding so you receive immediate notifications when a driver performs risky behaviors. Some dash cams have speakers to send in-cab messages when rules are broken to provide immediate feedback to drivers.
Overall, coaching drivers is most effective when paired with telematics data and video footage. Building consistent coaching programs into daily operations can improve driver behavior.
Fleet Safety Technology Pricing
We have the innovative products you need to implement a safety plan for your fleet. No matter the size of your operations, we are here to provide superior software and products that help improve your safety program. Our solutions support compliance, tracking, monitoring and increasing productivity, and analytics through a variety of products that form complete fleet management systems.
Request pricing or a demo regarding our technology today, and reach out to our customer support with other questions.
Contact Rand McNally
Request Pricing for Fleet Solutions
---
We're looking forward to talking with you. Please fill out the form to get started.
Or call us:
+1 (800) 789-6277 (Fleet management, ELD, Asset tracking, Navigation)
+1 (800) 234-4069 x2 (MileMaker/IntelliRoute)


If you are an existing customer and need assistance, please contact your Client Success rep or email fleetsupport@randmcnally.com.

This form is for business-to-business transactions only. It is not for personal consumer use.