The Ultimate Guide to Fleet Compliance
All U.S. commercial vehicle operators are subject to federal safety regulations by the U.S. Department of Transportation (DOT). The DOT's mission is for the United States to be globally recognized as the world's leading transportation system. A robust national transportation system bolsters our country's economic opportunities while connecting communities coast to coast.
To achieve this lofty mission, the American transportation system must operate efficiently while leveraging modern-day technology. However, without prioritizing safety, these goals can't be met. Therefore, at the heart of the DOT's mission is regulating and enforcing safety compliance among the millions of commercial vehicles operating on American roads every year.
The cornerstone of the DOT's ability to ensure safety compliance is its authority to conduct roadside inspections. During roadside inspections, DOT officials look for safety threats like use of controlled substances and alcohol, driver fatigue, improper vehicle maintenance, and many other factors that increase the risk of collisions and incidents. Information collected from roadside inspections, along with data from annual crash reports, is fed back to the DOT to further inform its regulations and crash-prevention efforts.
Despite the DOT's robust regulatory and enforcement power, a significant number of commercial motor vehicle crashes continue occurring every year. According to the most recent report, 181,044 collisions involving large trucks and buses were reported in 2019, down slightly from the previous year. Tragically, these incidents led to 5,024 fatalities and more than 97,000 injuries that year.
Many of these incidents could have been prevented with the right driver education and trucking compliance best practices to ensure compliance with DOT regulations for fleets. With this fleet compliance guide, you'll be better equipped to manage your fleet to achieve DOT compliance at all times.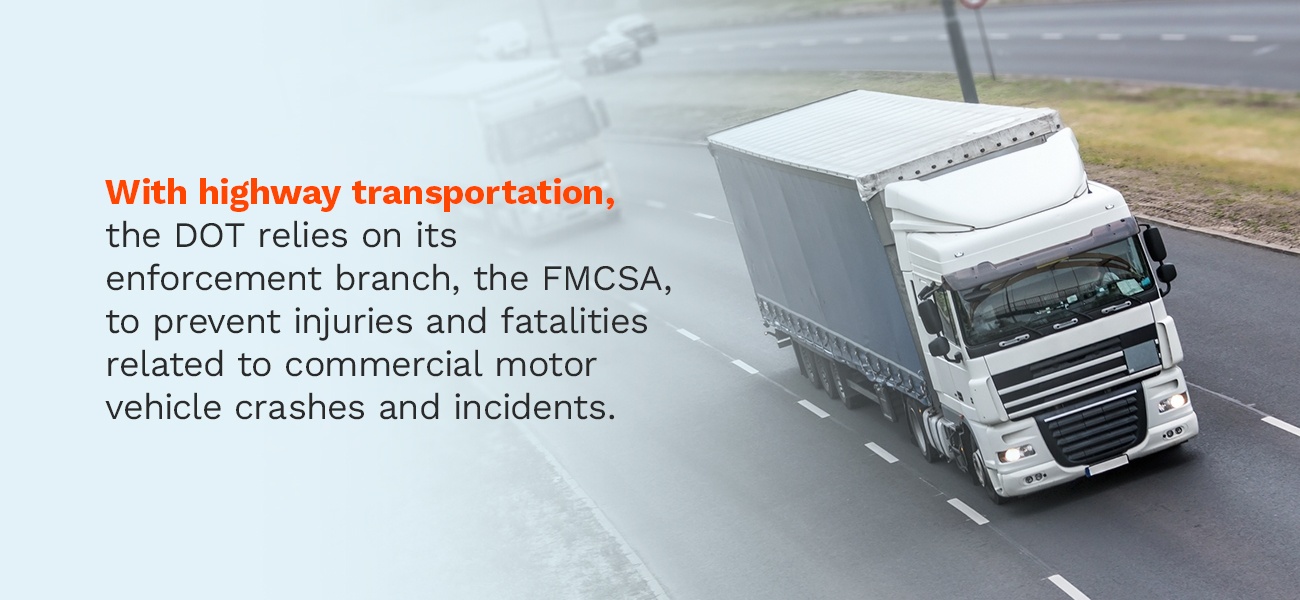 What is the DOT? What is the FMCSA?
The United States Department of Transportation is the federal government body responsible for developing, implementing, and regulating the national transportation system. It covers all forms of transportation, including those by roads, highways, railroads, seaports, harbors, airports, and air corridors. Each form of transportation is subject to its own regulations enforced by a specialized administration responsible for ensuring DOT compliance.
With highway transportation, the DOT relies on its enforcement branch, the FMCSA, to prevent injuries and fatalities related to commercial motor vehicle crashes and incidents. To achieve this safety mandate, the FMCSA safety regulations encompass several broad responsibilities, including:
Enforcing DOT safety regulations by conducting inspections and other measures to ensure compliance.
Issuing fines and other penalties for failure to comply with safety regulations.
Mitigating threats to public safety by targeting commercial drivers deemed at high risk of violating safety standards.
Working with commercial vehicle operators to modernize safety technology and practices.
Educating commercial vehicle owners and operators about existing regulations and the impacts on their businesses.
Revising and updating motor vehicle equipment safety standards.
The FMCSA also relies on partnerships with local, state, and federal law enforcement agencies, plus other special interest groups, to carry out its mandate.
Who is subject to DOT and FMCSA regulations?
To learn how to achieve and maintain DOT compliance, you must first know who is subject to it. The DOT's authority covers automobiles classified as commercial motor vehicles (CMV). Precisely what constitutes a CMV has changed over the years, causing confusion for many businesses as they try to be DOT compliant.
According to the FMCSA, the current definition of a CMV is any self-propelled or towed vehicle operated on highways and interstates to transport people or goods. The vehicle must also meet, at minimum, one of the following requirements to be considered a CMV:
The vehicle weighs over 10,001 pounds, including the load. The vehicle is used commercially for compensation to transport eight or more passengers, including the driver — for example, an airport shuttle. The vehicle is used non-commercially and not for compensation to transport 15 or more passengers, including the driver — for example, a school bus or day care van. The vehicle transports hazardous material, as defined by section 5103 of the U.S. Code.
All commercial motor vehicle operators and companies are subject to DOT regulations for trucking and other commercial ventures. Whether you're managing a long-haul trucking company or a fleet of commercial vehicles, you must ensure your business follows DOT compliance best practices.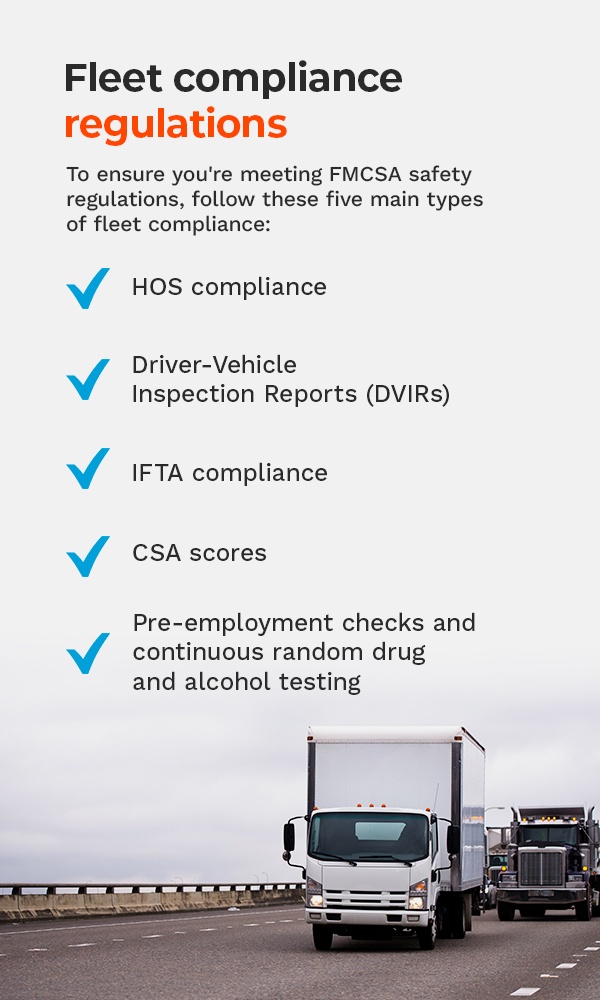 Fleet compliance regulations
If you manage a fleet of commercial vehicles, whether in hauling and logistics, moving and transport, passenger transit, or commercial and industrial construction, it's vital to understand the main areas of FMCSA's fleet compliance regulations. FMCSA requires fleet managers to follow five main compliance guidelines. To ensure you're meeting FMCSA safety regulations, follow these five main types of fleet compliance:
Hours-of-service (HOS) logs
Driver-vehicle inspection reports (DVIRs)
International Fuel Tax Agreement (IFTA) reporting
Compliance, Safety, and Accountability (CSA) scores determined by the FMCSA
Pre-employment safety screening and pre-employment, random, and post-incident alcohol and substance use testing
With the right fleet compliance best practices in place, you can rest assured your company will meet all FMCSA regulations and achieve and maintain fleet compliance.
HOS compliance
Driver fatigue is one of the leading factors involved in commercial vehicle incidents. As a result, the DOT has placed restrictions on the number of hours an individual driver can operate a vehicle without a break between shifts. Hours-of-service is one of the most critical aspects of FMCSA compliance that a fleet manager can prioritize. Drivers are required by law to electronically account for their operating time using an FMCSA-approved electronic logging device (ELD).
According to the FMCSA, HOS regulations state that property-carrying drivers may drive a maximum of 11 hours after 10 consecutive hours off-duty, while passenger-carrying drivers may drive for a maximum of 10 hours after eight consecutive hours off-duty. Additionally, property-carrying drivers may not drive the 14th consecutive hour after returning to duty, following 10 consecutive hours off-duty.
Off-duty time must also not extend past 14 hours. Similarly, passenger-carrying drivers may not drive after being on duty for 15 hours, following eight consecutive hours off-duty. Off-duty time is not included in these 15 hours.
Along with the DOT requirement for an electronic logging device, these driver regulations reflect the diligence required by truck drivers and fleet managers to ensure drivers are alert and safe behind the wheel. With integrating electronic logging devices and telematics technology, all guesswork has been removed from FMCSA and DOT requirements. Many of these tools provide an array of features to improve both logistics and safety.
Driver-Vehicle Inspection Reports (DVIRs)
The FMCSA requires drivers to fill out driver-vehicle inspection reports before and after every trip, usually at the beginning and end of each day. The DVIRs are important because they cover items essential for safe and effective vehicle operation. Although the FMCSA requires all commercial vehicles to perform the driver-vehicle inspection report, every driver should check their trucks anyway to ensure their equipment is in proper working order.
If a commercial vehicle gets stopped by a DOT agent, the agent will inspect the same items found on the DVIR checklist. Therefore, if drivers and fleet managers thoroughly inspect their vehicles before and after every day of driving and repair or replace any damaged or worn equipment right away, they will likely satisfy the DOT inspector's review. A standard DVIR checklist covers the following items:
Brakes and air systems
Steering systems
Lights
Tires, wheels, and rims
Rear-view and side mirrors
Windshield wipers
Fifth wheels and connection equipment
Safety and emergency equipment
The above is not an exhaustive list, and many commercial vehicles have extra equipment that should be maintained and checked regularly. Additionally, the DVIR only covers vehicles themselves and not the equipment or materials being hauled.
By implementing electronic monitoring systems and telematics, drivers can perform DVIR checks with ease using advanced devices and software. These technologies can help them stay in line with trucking compliance guidelines.
IFTA compliance
The International Fuel Tax Agreement is a reporting system adopted by 48 U.S. states and 10 Canadian provinces to better determine the destination of fuel taxes paid by truck drivers.
Before the IFTA, truck drivers were required to obtain fuel permits from every state they entered, creating a significant hassle for long-haul truckers traveling through multiple states or provinces. The IFTA simplifies things by only requiring truckers to record their miles driven, fuel purchases, and purchase locations. Truckers then submit this information quarterly to their home base IFTA office, which then allocates fuel taxes to states and provinces based on the number of miles driven on their roads.
With telematics, IFTA reporting has become much simpler and more manageable. Using GPS technology to pinpoint fueling locations and calculate miles driven between each fill-up, electronic device logs can then transmit that information to software, which automatically fills in IFTA reporting forms.
The integrated technology provides a massive improvement over manually recording fueling locations and miles driven, as paper logs can be easily lost or not completed. Any trucker can attest to the difficulty of remembering to fill out a report at every fill-up and updating their records at a later date.
Along with simplifying HOS and driver-vehicle inspection reports, telematics solutions make IFTA reporting infinitely more straightforward and convenient. This advantage allows drivers to focus on operating their vehicles safely and reaching their destination on time.
CSA scores
The CSA score is a component of the Compliance, Safety, and Accountability program run by the FMCSA. The score is assigned to carriers and indicates how effectively they're achieving fleet compliance with FMCSA safety standards. Scores are given on a zero to 100% scale, with zero being the safest with no infractions and 100 being the worst performance possible.
CSA scores are determined by roadside inspections. If drivers and their vehicles are within FMCSA guidelines, they will not receive any points. Therefore, these drivers will maintain fleet compliance.
Seven categories, called the BASICs, determine if violations have occurred. They are:
Unsafe driving:

This includes speeding, not wearing a seatbelt, and driving recklessly.
Driver fitness:

Judging driver fitness involves checking if they are driving without a valid commercial driver's license (CDL) or other proper qualifications.
Crash indicator:

The crash indicator signals if a carrier has a higher than acceptable frequency or intensity of collisions.
HOS compliance:

This regulation judges whether drivers are operating while sick or fatigued or not maintaining logs.
Vehicle maintenance:

This involves improper load securement or unmaintained equipment.
Controlled substance or alcohol:

This regulation checks if workers are driving under the influence of alcohol or illegal drugs.
Hazardous material compliance:

This rule determines if a vehicle is leaking dangerous materials or the carrier is failing to label them properly.
Because the CSA score is assigned to carriers and not individual drivers, carriers should hire competent and professional drivers. The pre-employment screening or PMP report contains the driver's last five years of crash data and previous three years of roadside inspection data from the FMCSA database. It's the most reliable indicator to determine driver competence.
If drivers lack safety or equipment operation knowledge, it's best to send them through training programs, bring them up to speed, and reduce their likelihood of receiving a poor roadside inspection score.
Pre-employment checks and continuous random drug and alcohol testing
Carriers rely on their drivers to operate their vehicles safely and competently at all times. When a driver is involved in an accident they are at fault for, they can cause irreparable damage to the carrier's reputation. This situation also usually includes many legal costs and even criminal charges. Because of this, fleet managers must ensure workers perform all available checks to make sure new hires are adequately trained and have a solid safety record.
One of the best ways to access a driver's professional driving history is to view their pre-employment screening report. The crash data can indicate if a driver has a drug or alcohol problem or if they drive unsafely or unprofessionally. The roadside inspection reports can show whether drivers perform due diligence and adequately inspect their vehicles for defective equipment and ensure their loads are properly secured.
For both new and existing employees, safety managers need to ensure they perform random drug and alcohol testing. Drug and alcohol testing must be done during pre-employment checks, on a random and ongoing basis, and during post-incident investigations. Substance abuse among commercial motor vehicle operators is a serious offense, and preventing these events falls on the fleet or safety manager.
Companies can do drug and alcohol testing in-house, or managers can opt to hire a third-party service to handle the testing, lab work, and administration that accompanies it.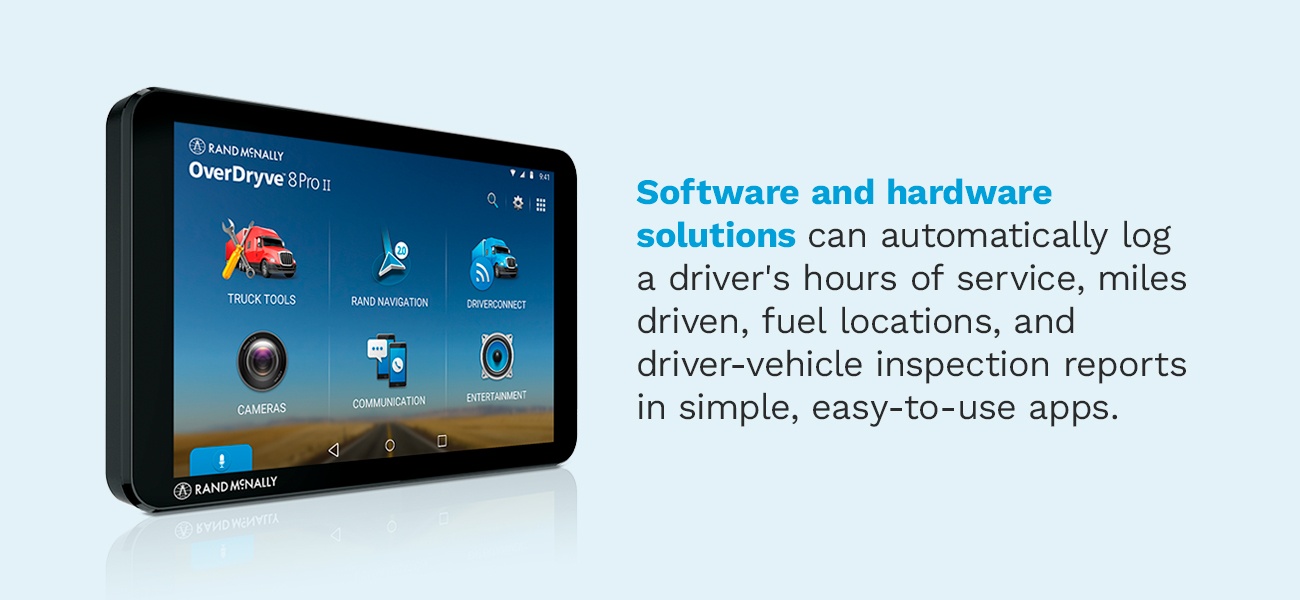 How a fleet management system helps with compliance
The DOT and FMCSA keep the roadways and transportation networks safe and efficient for all road users. To do this, they require drivers and carriers to follow a series of requirements such as maintaining HOS logs and DVIRs, which must be kept up to date and accurate. The IFTA requires all commercial vehicles traveling out of state to maintain a detailed record of fueling locations and miles driven in each state.
To ensure drivers are following these rules, random DOT inspections are performed. Should a driver not meet the standards above, they will increase their carrier's CSA rating, meaning higher insurance rates and stricter oversight for the carrier and their drivers.
With fleet compliance technology, it's incredibly easy to follow the requirements put forward by the FMCSA and DOT. Software and hardware solutions can automatically log a driver's hours of service, miles driven, fuel locations, and driver-vehicle inspection reports in simple, easy-to-use apps.
This leap forward in trucking and carrier technology means drivers can focus on their vehicle's safe operation and meet their clients' needs without continually worrying about logbooks and reports. All the data is automatically sent back to the fleet manager, who accesses, compiles, and uses it to make smarter decisions for the betterment of the fleet and the customers it serves.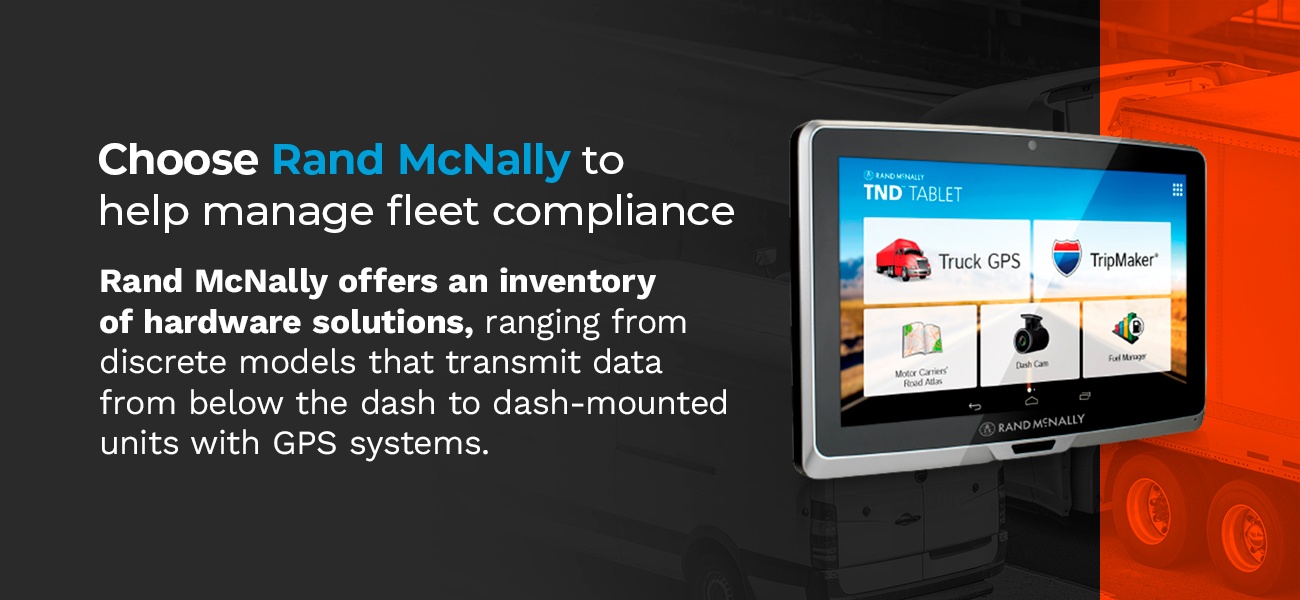 Choose Rand McNally to help manage fleet compliance
With telematics technology offering a genuinely convenient and useful set of tools for commercial fleets, it's more important than ever to leverage it and integrate it into your fleet management tools. This guide to DOT compliance has shown why telematics is essential for improving your fleet management techniques — and Rand McNally can help.
Rand McNally offers an inventory of hardware solutions, ranging from discrete models that transmit data from below the dash to dash-mounted units with GPS systems. The hardware can connect via an onboard modem that transmits a cellular signal or through the driver's cellular device. Accompanying software solutions provide user-friendly applications for fleet managers that neatly categorize and present useful information about the entire fleet in real time.
Everything from vehicle diagnostics, traffic congestion, driver time behind the wheel, and accident and emergency alerts can easily be viewed at any time. This quality makes fleet managers more informed and connected than ever before.
For more information on Rand McNally fleet and trucking compliance solutions, contact us today to request pricing.
Contact Rand McNally
Request Pricing for Fleet Solutions
---
We're looking forward to talking with you. Please fill out the form to get started.
Or call us:
+1 (800) 789-6277 (Fleet management, ELD, Asset tracking, Navigation)
+1 (800) 234-4069 x2 (MileMaker/IntelliRoute)


If you are an existing customer and need assistance, please contact your Client Success rep or email fleetsupport@randmcnally.com.

This form is for business-to-business transactions only. It is not for personal consumer use.