What Are the New FMCSA Hours of Service Rules?
In an ongoing effort to provide flexibility for truck drivers, the U.S. Department of Transportation introduced new hours of service (HOS) rules. The DOT's Federal Motor Carrier Safety Administration (FMCSA) published final rules on June 1, 2020, and the new hours of service regulations went into effect on September 29, 2020.
The new rules, which came out of a 2018 rulemaking inquiry to determine if HOS revisions could remove burdens on drivers, will result in regulatory savings of more than $270 million, the FMCSA estimates.
What is HOS compliance and who does it apply to?
Every commercial driver needs to be in compliance with the FMCSA's hours of service rules. The goal of HOS is to protect drivers by putting restrictions on how much they can drive, when they need to take breaks, and how long a driving cycle can be. The HOS rules are mandatory for commercial motor vehicles (CMVs).
The FMCSA defines a CMV as any vehicle used by a business for interstate commerce. If a vehicle matches any of the following descriptions, it is a CMV:
Weight over 10,0001 pounds.
Gross vehicle weight rating or gross combined weight rating over 10,001 pounds.
Transports a large enough amount of hazardous materials to require a placard.
Can transport nine or more people (driver included) for compensation.
Can transport 16 or more people (driver included) without compensation.
Complying with the HOS rules can keep drivers from falling asleep at the wheel or driving when overly distracted. To be in compliance, drivers need to keep accurate records or logs of how long they are on the road. The logs will show that a driver hasn't driven more than the allowed amount and that they haven't worked more than allowed under the regulations. A single day driving limit is 11 hours while the workday limit is 14 hours. Drivers can comply with the rules by using an electronic logging device (ELD).
Understanding the FMCSA HOS Changes
The new rules affect four areas: Short-Haul, Adverse Driving Conditions, 30-Minute Breaks, and Sleeper Berths. Here's an overview of the changes in each area.
Short-haul exception
Those CDL carriers that use the short-haul exception and therefore are not required to use a RODS (record of duty status) or ELDs, will see two changes. The new rules extend the maximum driving distance allowed from a 100 air-mile to a 150 air-mile radius and extend the maximum duty period from 12 to 14 hours.
Adverse driving conditions exception
The new hours or service rules create a new definition of "Adverse Driving Conditions." The new rule describes Adverse Driving Conditions as "snow, ice, sleet, fog, or other adverse weather conditions or unusual road or traffic conditions that were not known or could not reasonably be known to a driver or motor carrier." The previous rule did not include the role of the driver and specified that the exception only applied when adverse driving conditions were unforeseeable. Additionally, the updated rules extend the duty day by two hours when such adverse conditions occur. The two-hour extension applies to both property and passenger carriers.
30-minute break requirement
Under the new rule, drivers need to take a 30-minute break after driving for a total of eight hours without at least a 30-minute break. The eight-hour driving time does not need to be consecutive; additionally, an "on-duty, not driving" period qualifies for the 30-minute break. The prior rule specified that drivers carrying property were required to take a 30-minute break after eight hours "on-duty."
Sleeper berth provision
The last HOS change allows drivers to split the 10-hour off-duty requirement into two periods:
One off-duty period (whether in or out of the sleeper berth) of at least two hours.
One off-duty period of at least seven consecutive hours in the sleeper berth. That means drivers can split the requirement as seven hours sleeper berth and three hours off-duty or eight hours sleeper berth and two hours off-duty.
When both periods are used together, neither counts against the 14-hour driving window.
Hours of Service violation penalties
Many drivers and fleets have been waiting for these changes, but it's important to note that violations and penalties will be in effect as per the old rules up until the change. According to the FMCSA guidelines, drivers and carriers must operate under the HOS final rule starting on the September 29, 2020, and not before.
DOT Hours of Service rules
For more information on the changes to DOT Hours of Service, visit these sources: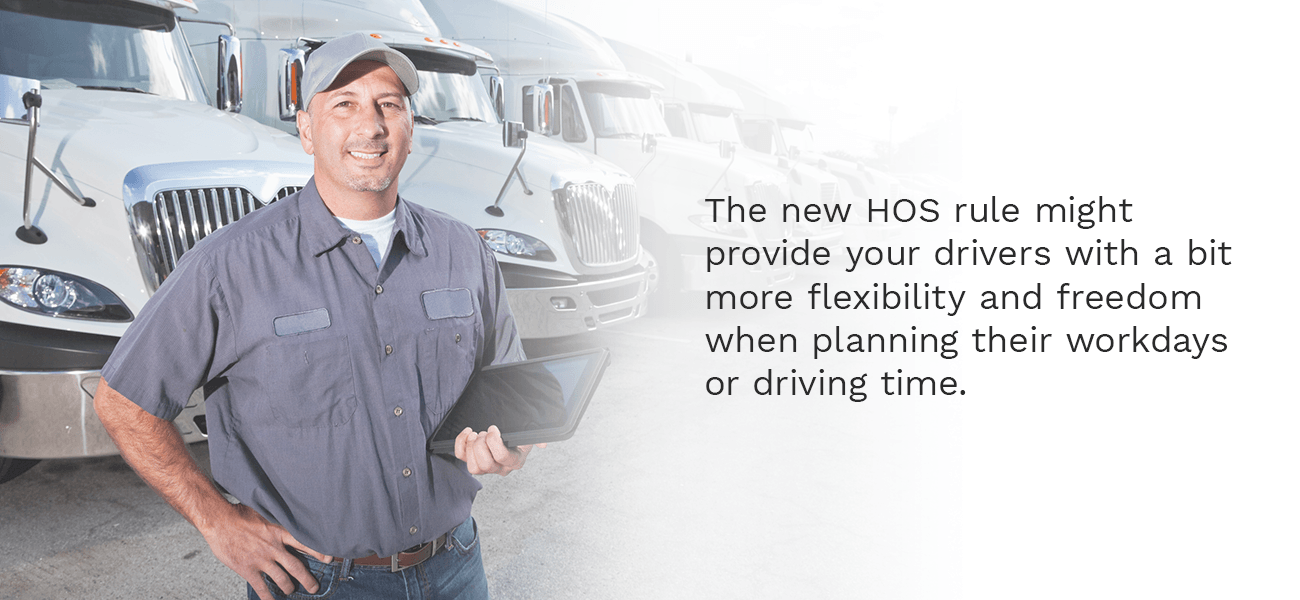 How does the HOS Final Rule impact my fleet?
The new HOS rule might provide your drivers with a bit more flexibility and freedom when planning their workdays or driving time. For example, under the new rule, your drivers need to take a break after driving for eight hours, not after eight hours on-the-clock. A driver now has the option of remaining on-duty during their 30-minute break, which can be helpful if they have administrative or other non-driving tasks to complete. The sleeper berth rule also gives your drivers more flexibility, as before they were limited to eight hours in the berth and two hours off-duty. The two or three hours spent off-duty no longer count as part of the 14-hour driving day.
Stay in compliance with help from Rand McNally
Whether your fleet is large or small, complying with the HOS rules is critical. Rand McNally's fleet management software streamlines the process of logging hours and ensuring compliance. The app keeps your driver's status updated to the minute, while the web version lets your fleet managers keep tabs on each of your drivers. To learn more about how Rand McNally can help you keep up with the FMCSA's new rules, and to see a demo of the Rand McNally Fleet platform, contact us today.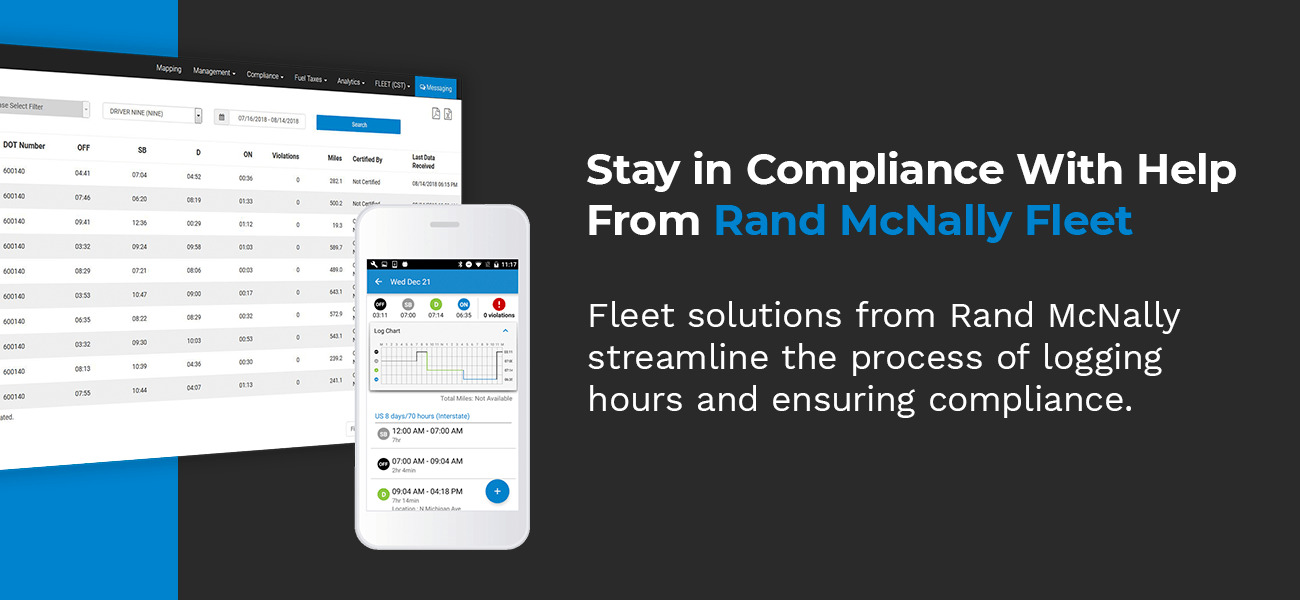 Contact Rand McNally
Request Pricing for Fleet Solutions
---
We're looking forward to talking with you. Please fill out the form to get started.
Or call us:
+1 (800) 789-6277 (Fleet management, ELD, Asset tracking, Navigation)
+1 (800) 234-4069 x2 (MileMaker/IntelliRoute)


If you are an existing customer and need assistance, please contact your Client Success rep or email fleetsupport@randmcnally.com.

This form is for business-to-business transactions only. It is not for personal consumer use.