How to Optimize Your Food Delivery Fleet
Rand McNally
·
3 minute read
The food delivery industry is a competitive space. Knowing how to optimize your food delivery fleet is essential to increase efficiency and ensure you provide an excellent customer experience. To optimize your fleet, you need a fleet management system that streamlines your operations, gives you an overview of driver performance and analytics, helps you maximize your resources, and reduces costs.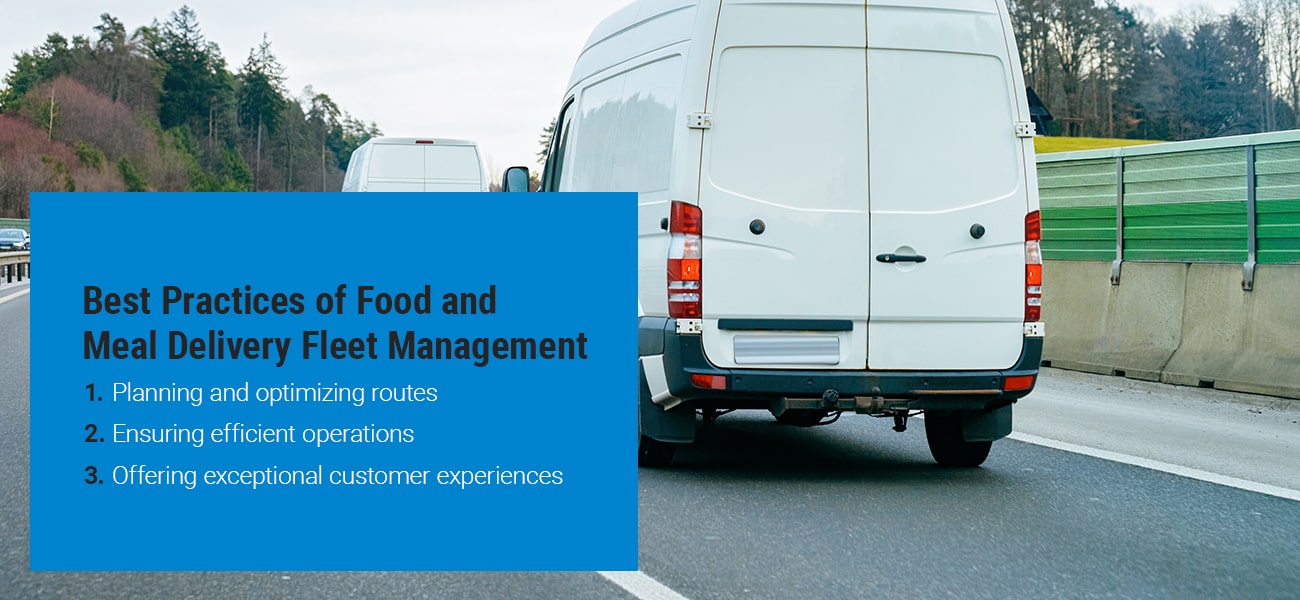 Best Practices of Food and Meal Delivery Fleet Management
Whether you deliver food products or whole meals, you should adhere to best practices to succeed in an expanding industry and competitive sector. Three essential techniques include:
Planning and optimizing routes:

You should select the best routes regardless of your fleet size or distance. Your food or meal deliveries can include dynamic rerouting to account for unexpected events, such as traffic jams, accidents, and the weather. GPS tracking and fleet management solutions will help you view live location tracking and inform customers of real-time progress or delays.

Ensuring efficient operations:

Growing and maximizing your return on investment (ROI) requires using resources in the most economical way. You need a system that helps you streamline your processes at every delivery stage. A practical solution that provides an overview of the various complexities of food logistics, like vehicle capabilities, delivery times, and driver performance, enables you to pinpoint improvement areas.

Offering exceptional customer experiences:

The bottom line is providing customers with the best service. Your delivery fleet is the face of your business. If the driver is friendly and delivers on time, this reflects positively on your business. If items are damaged, the delivery is late without real-time communication or explanation, or the driver does not reflect your company's values, this negatively impacts your business. Communication is vital to an exceptional customer experience — including estimated arrival times, delay notifications, proof of delivery, feedback, and traceability help.
How Fleet Management Software and Telematics Help
An inclusive fleet management system gives you a comprehensive overview of your food and meal delivery performance. The benefits of using software and telematics are vast. Key advantages include:
Efficient deliveries:

Telematics enables you to share location data with your customers. The estimated arrival time is evident, making drop-offs quick and improving the end-to-end customer experience.

System digitization:

Food delivery logistics traditionally required much paperwork — order forms, route sheets, delivery receipts, invoices, and records of logged hours. Digitization makes it easier for your fleet to make deliveries and for you to manage and monitor processes.

Transparent operations:

A fleet management system builds transparency, whether you deliver meals to consumers or retail giants. Your customers can view delivery status and, if this feature is enabled, directly communicate with drivers.
How to Choose the Best Food and Meal Delivery Fleet Management Software
Partnering with a reliable and experienced company for your fleet management software is vital. Any glitches in the software will impact how your customers perceive your fleet and business. The best software includes:
Behavior monitoring:

Drivers impact your fleet's safety and longevity. Advanced technology will let you see how the driver conducts themselves. Bad driving can be addressed and sound driving rewarded.

Smart analytics:

With the best fleet management software, increasing efficiency, reducing costs, and identifying bottlenecks should be easy. The tiniest detail may save you significant costs and time. Having analytics at your fingertips is vital.

Inventory management:

Depending on your fleet's size, you may need

asset tracking solutions to track loads or trailers

. Regardless, choose a fleet management system that offers vehicle and asset tracking to make upgrading your needs seamless.

GPS fleet tracking:

Fleet management software should be compatible with GPS devices to enable monitoring of traffic flows and inclement weather.
Why Choose Us?
The Rand Platform will demonstrate how to optimize food delivery logistics so that you manage your fleet efficiently and reduce operational costs. We provide:
Precise tracking:

Our systems can

track your drivers in real-time

. GPS tracking will enable you to locate vehicles fast and view any traffic jams or obstructions that will cause delays.

Driver analytics:

F

leet management software and telematics help you know how drivers conduct themselves during deliveries, including if there was any harsh braking, fast cornering, or speeding. On ave

rage, the Rand Platform and compatible devices reduce 80% of speeding, decrease fuel consumption, and easily track driver performance.

Simplified management:

With an all-in-one fleet management system, our platform will help you make smarter decisions, boost efficiency, and decrease costs. Cut the hours spent on administration by 45% and streamline your food delivery logistics, viewing all data in one place.
Learn More About Our Fleet Management Solutions and Pricing
In a competitive space, you need to ensure your food and meal deliveries are done quickly, effectively, and safely. Our fleet management solutions will optimize your operations and simplify your tracking, analytics, and driver performance evaluation.
We have a global presence across all continents and industries, providing robust hardware, navigation, logistics, and an innovative fleet management platform.
Contact us for pricing and more information about how our solutions will improve your delivery logistics.
Contact Rand McNally
Request Pricing for Fleet Solutions
---
We're looking forward to talking with you. Please fill out the form to get started.
Or call us:
+1 (800) 789-6277 (Fleet management, ELD, Asset tracking, Navigation)
+1 (800) 234-4069 x2 (MileMaker/IntelliRoute)


If you are an existing customer and need assistance, please contact your Client Success rep or email fleetsupport@randmcnally.com.

This form is for business-to-business transactions only. It is not for personal consumer use.