Delivery Fleet Management Guide
Rand McNally
·
4 minute read
Effective delivery fleet management is essential to optimizing your resources, vehicles, time, money, and drivers. Understanding how to optimize a delivery fleet can help you increase driver productivity, reduce fuel consumption, and improve safety. We created this courier fleet management guide to explain how fleet management software can help you better manage various aspects of your business.
What Is Delivery Fleet Management?
Delivery fleet management is a practice that helps companies utilize their drivers and vehicles as efficiently as possible. With effective fleet management, organizations can increase fleet productivity, reduce costs, improve customer experiences, and decrease carbon emissions.
Some companies practice internal fleet management by using vehicles they own and employees they hire to deliver their products. Other companies practice external fleet management by outsourcing their delivery services to third parties.
Wired Asset Tracker Overview
A wired asset tracker operates on energy from an asset's power source, and it requires no batteries. This type of tracker has power as long as its asset has power. Wired asset trackers provide constant tracking, allowing you to track where your assets are at all times.
While their installation is slightly more complex than battery or solar-powered trackers, wired trackers are typically safer from theft than other tracker types because they are directly connected to the assets they track.
Aspects of Fleet Management
Delivery fleet management deals with delivery resources, schedules, and workforces. A delivery fleet manager must oversee the following factors:
Fleet productivity

Operational costs

Maintenance and inspections

Vehicle and driver conditions

Safety

Cross-departmental collaboration

Customer satisfaction
Delivery Fleet Best Practices
To understand how to manage a delivery fleet, consider the following courier fleet best practices:
Prioritize Driver Productivity
Prioritizing your drivers' safety and productivity is important. Driver productivity management requires effective communication and adequate support. Clearly communicate your expectations so delivery drivers understand how to complete their tasks and navigate their routes as efficiently as possible.
Your drivers should have open lines of communication with necessary team members at all times, which allows them to provide real-time details about task statuses, vehicle maintenance needs, and inspections. They should also have access to real-time information about road conditions, traffic updates, and construction zones so they can complete their routes safely and efficiently.
Develop an Effective Preventive Maintenance Strategy
Vehicle downtime can hinder productivity and interrupt schedules, so it's important to maintain your delivery vehicles. Proper fleet upkeep can ensure vehicles operate at top performance, prevent unplanned vehicle downtime, and reduce the amount of time vehicles are out of service.
A preventive maintenance schedule can help you manage maintenance needs and maximize your fleet's uptime. Configuring maintenance schedules with your route schedules can help optimize time so maintenance tasks and repairs do not interfere with delivery times.
Consider implementing service reminders based on service hour intervals or mileage. Advanced maintenance notifications allow you to schedule services during off hours before or after your drivers need to be on the road.
Effectively Track Fuel Consumption and Costs
Fuel consumption is a significant ongoing cost for delivery fleets. Managing your fleet's fuel consumption can help you reduce costs over time. The most effective way to manage fuel consumption is to track fuel metrics such as:
Fuel economy

Fuel grade

Consumption trends

Cost-per-mile

Number of units in gallons or liters

Vendor locations
Tracking useful fuel metrics and analyzing them alongside fleet expenses and maintenance trends can help you identify potential improvement areas. With this information, you can strategize and implement solutions to reduce your fleet's fuel expenses.
Improve Your Purchasing Decisions
Reducing unnecessary spending is essential to maximizing your return. While a delivery fleet typically has high operating costs, monitoring your total cost of ownership (TCO) can help you improve your purchasing decisions.
Track all of your expenses, including both large and small purchases. Tracking your expenses allows you to trim purchases where you can, reduce your overall TCO, and strategize cost-effective ways to lease and purchase vehicles.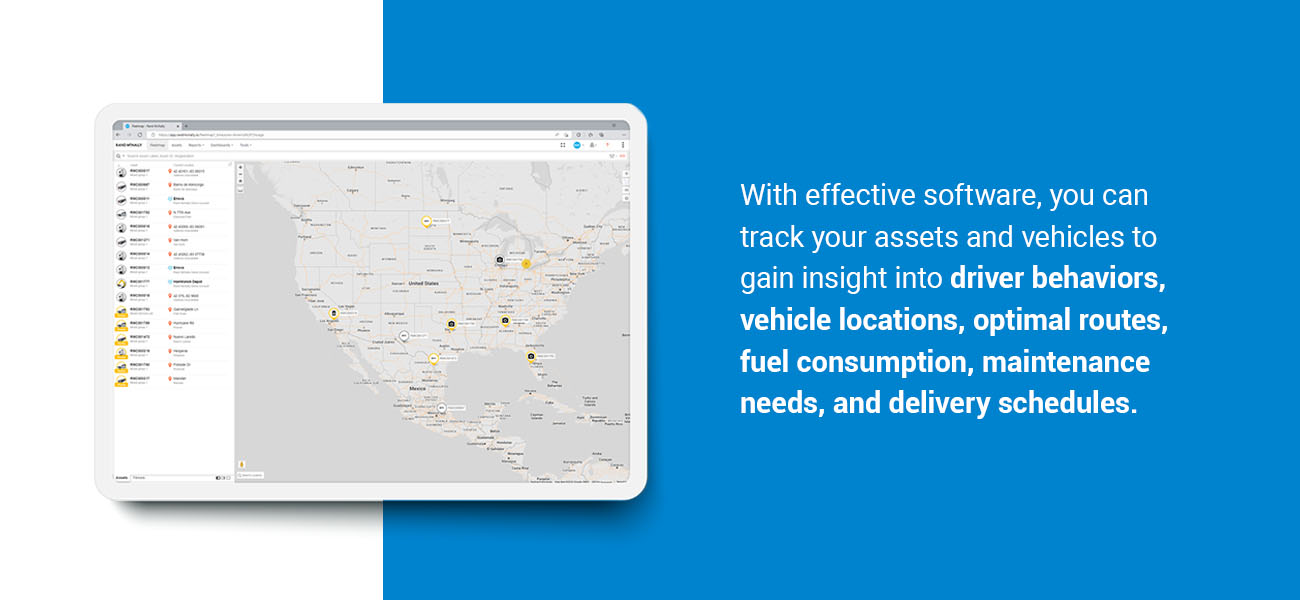 Benefits of Fleet Management Software
Delivery fleet management software increases efficiency by making data easily accessible. With effective software, you can track your assets and vehicles to gain insight into driver behaviors, vehicle locations, optimal routes, fuel consumption, maintenance needs, and delivery schedules. With these valuable insights, you can make informed decisions to improve your practices.
Fleet management software is also beneficial because it improves communication among team members. With management software, drivers can send real-time notifications when they notice a vehicle needs maintenance, allowing you to schedule repairs as soon as possible to prevent vehicle downtime.
How to Choose the Best Delivery Fleet Management and Telematics Solutions
Effective fleet management software offers some key features for the delivery industry. To choose the best delivery fleet management and telematics solutions, make sure the solution offers the following features:
Analytics:

Analytics provide essential insight into driver habits and vehicle performance to help you plan preventive maintenance or improve training programs.

Tracking:

Tracking features allow you to track assets and vehicles so you are always aware of delivery times and vehicle arrivals.

Communication:

Hands-free communication features allow drivers to communicate easily while on the road.

Navigation:

A quality navigation system can help optimize routes to prevent drivers from wasting time and mileage. Cloud routing technology allows you to

send truck-specific routes

directly to your drivers.

Productivity:

Effective fleet management systems provide a wide variety of options to help maximize fleet productivity.

Safety:

Your fleet management software should monitor driver habits and vehicle health to mitigate risks and keep your team safe. With this insight, you can better educate drivers to

follow important driving guidelines

and stay safe on the road.

Compliance:

Fleet management software should provide data and notification settings to help your company maintain compliance.
We'll Help You Manage Your Fleet
We offer high-quality delivery fleet management software to help you manage your fleet effectively and increase efficiency. Our management software offers the following beneficial features:
Asset tracking:

Real-time insights

allow you to track and monitor

your fleet's vehicles and increase efficiency.

Safety:

Two-way cab- and road-facing cameras

help protect your team

and your company.

Driver analytics:

Driver analytics allow you to monitor driving behavior to effectively educate and train your team.

Vehicle data:

Vehicle data provides insights about factors such as idling, fault codes, and fuel usage you can use to optimize under-utilized and over-utilized vehicles.

Workflows:

Effective software allows you to automate your workflows in a way that meets your company's needs.

Fleet telematics:

With real-time insights, you can monitor and track your vehicles, improving efficiency.

Increased visibility:

Software features increase visibility, allowing you to know where your assets, drivers, and vehicles are and how well they are performing at all times.

Geofencing:

Geofencing features alert you when your equipment or vehicles enter or leave a pre-defined area.

Reporting:

Reporting features provide you with additional operational insight so you can make data-driven decisions.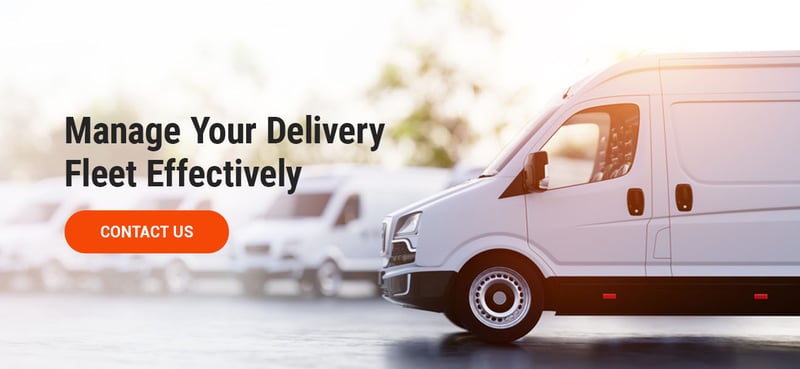 Manage Your Delivery Fleet Effectively
Effectively managing your delivery fleet can increase productivity and save your company time and money. We offer delivery fleet management solutions to meet your company's needs. Contact us to request pricing and learn more about how we can help you manage your delivery fleet efficiently.
Linked Sources:
Contact Rand McNally
Request Pricing for Fleet Solutions
---
We're looking forward to talking with you. Please fill out the form to get started.
Or call us:
+1 (800) 789-6277 (Fleet management, ELD, Asset tracking, Navigation)
+1 (800) 234-4069 x2 (MileMaker/IntelliRoute)


If you are an existing customer and need assistance, please contact your Client Success rep or email fleetsupport@randmcnally.com.

This form is for business-to-business transactions only. It is not for personal consumer use.