Creating a Culture of Fleet Safety
When your priority is reducing accidents, safety isn't merely a box to tick off — it's a mindset. Can you shift the concept of "safety" from its association with extra training and checklists to something your workers feel motivated to strive for every day? If so, you can improve their chances of avoiding injury and minimize the many costs associated with safety incidents.
So, what does fleet safety culture look like, and why do you need one? Let's look at some tips for creating a culture of fleet safety and why it is so valuable.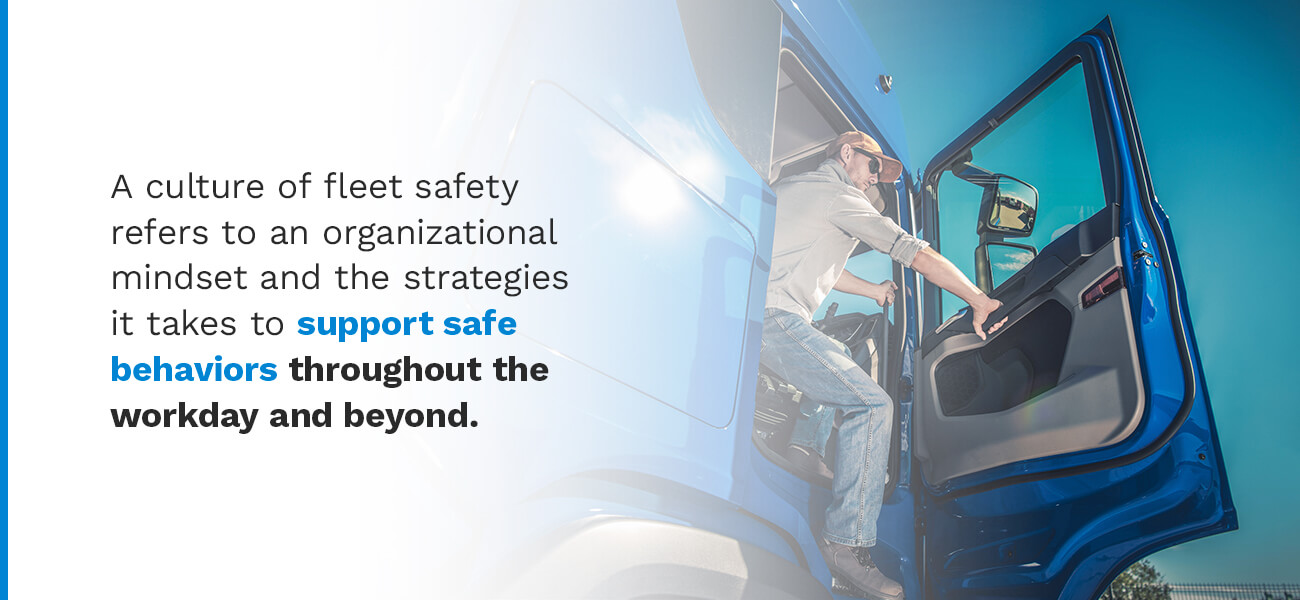 Why Your Fleet Needs a Culture of Safety
A culture of fleet safety refers to an organizational mindset and the strategies it takes to support safe behaviors throughout the workday and beyond. It might look like positive attitudes toward safety, concrete analyses of safe conduct, or training that focuses on shifting employees' mindset toward safety.
As you can imagine, this kind of thinking is ideal for encouraging overall safety. You can improve adherence to safety guidelines and morale within the company. This behavior reduces risk and can help keep incidents to a minimum. For fleets, the outcomes of safety incidents are often much more significant than a broken arm or a sprained wrist, making it a vital part of daily operation in these companies.
In addition to risk reduction, creating a culture of fleet safety can bring the following advantages.
Reduce Costs: Many costs accompany an unsafe workplace, such as high insurance premiums, workers' compensation, litigation costs, and property damage. Safe behaviors can help you avoid these incidents altogether and keep costs down. The return on investment associated with safety cultures can be extensive and might extend to aspects like productivity, reputation, customer service, and profitability.
Improve Documentation Practices: Typically, creating a fleet safety culture among your drivers involves beefing up your documentation practices. This practice covers you if an incident occurs and proves to outside agencies that you take safety and accountability seriously. It's also an effective way to collect more data on safety behavior.
Boost Employee Satisfaction: In one study by the Society for Human Resource Management, 56% of employees reported that feeling safe in a work environment was central to their job satisfaction. It was the sixth-highest-rated factor among 44. In addition to creating a safer workplace, aspects like stronger communication and responsive, caring leadership can also help improve employee satisfaction.
How to Create a Culture of Fleet Safety
When identifying strategies for creating a culture of fleet safety, we can break things down into various aspects.
Incorporate Transparency: All workers should stay up to date on the latest policies and guidelines. No information should be off-limits, and your organization should encourage employees to ask for assistance. Ensure your organization's safety plan is easily understandable, and keep it somewhere accessible.
Create Accountability: When workers can take responsibility for their workplace, they can take a more active role in its safety. Ensure they know how vital it is to report these issues and how much you value their influence on a safety culture — including in their off time.
Positive Reinforcement: Show your appreciation for employees who take safety seriously. You can implement an incentive program and ensure supervisors understand the value of celebrating success and exemplifying workers. Some perks might include monetary gifts, plaques, or a shout-out in the company newsletter. Recognition for exceptional safety records can help show that the company values the safety culture and acknowledges its employees' contributions.
Educate Drivers: Driver training can be a significant addition to many safety programs that include instruction and the effects of not following safety guidelines. Enforce additional training for drivers who exhibit risky behavior. Watch for common issues throughout the company and offer education as needed to address them.
Hire Better Drivers: Implement strict policies during the hiring process and only accept employees with clean driving records. Conduct checks on existing employees and repeat them regularly, and consider probationary periods for new hires who may have only a few violations on their records.
Get Buy-In at All Levels: Get all stakeholders, departments, and senior executives on board and involved with creating a fleet culture of safety. These parties will be necessary for providing exemplary behavior and creating a cohesive plan.
Collect Data: Analytics is a great way to identify where your safety strategy needs improvements and where it's excelling. It can be an invaluable tool when deciding where to focus your efforts. Collect information wherever you can, such as accident ratios, driving records, and incident costs.
Improve Communication: Enforce open and honest communication throughout your company. Discuss safety often and remind workers who to go to if safety issues appear.
How Fleet

Software can Help
Enlisting your fleet management software is an excellent strategy for cultivating a culture of fleet safety. These systems offer many robust tools for the job and other areas of business.
One of the most valuable resources you'll find in fleet software is telematics and analytics capabilities. You can collect any number of metrics about a driver's performance, such as behavior data and incident information, that will tell you about how well they're driving. You can compile pertinent information in the driver's profile and use it in analytics and reporting to inform operations and employee evaluations. Combine this information with your safety goals and recent strategies you've implemented to better direct your efforts.
Fleet management software also provides valuable tools for documentation. Keep your reports, vehicle assessment data, and other essential documents safe in the cloud and accessible to the employees who need them.
Another capability of these programs comes in the form of easy messaging functionality. Allow drivers, managers, and other team members to improve communication through a text-based messaging system. Drivers and managers can easily discuss safety issues and better avoid them with the right conversations, all documented in the fleet management program.
Request a Demo of Rand McNally's Fleet Management Software
If you're serious about safety and want to take the next step in creating this culture within your fleet, our fleet management software can help you get there. Our versatile and affordable system offers an array of tools and ways to build a safety culture within your fleet.
In addition to safety, this program can also help you find benefits for efficiency, profitability, compliance, and many other aspects of operation. Learn more about our fleet management software, or reach out to a representative to request a demo or pricing information.
Contact Rand McNally
Request Pricing for Fleet Solutions
---
We're looking forward to talking with you. Please fill out the form to get started.
Or call us:
+1 (800) 789-6277 (Fleet management, ELD, Asset tracking, Navigation)
+1 (800) 234-4069 x2 (MileMaker/IntelliRoute)


If you are an existing customer and need assistance, please contact your Client Success rep or email fleetsupport@randmcnally.com.

This form is for business-to-business transactions only. It is not for personal consumer use.