Why Your Fleet Needs Dash Cams
With dash cam technology installed in your fleet's vehicles and equipment, you can boost fleet performance, increase safety levels and save your company money. They're a way to safeguard your operations from potential losses while giving you an upper hand in understanding your daily performances.
Fleet Dash Cam Overview
Fleet vehicles and equipment undergo extreme conditions compared to the average commuter car. Your drivers and operators experience more inclement weather, traffic patterns, and longer hours on the road. They also deal with fluctuating road conditions and strict driving regulations.
With so many factors affecting the everyday job of a driver or operator, monitoring your fleet is crucial in terms of safety and business efficiency. By installing dashboard cameras to your fleet vehicles and equipment, you can monitor drivers inside the cab, as well as what's happening on the road.
Dash cams can withstand continuous recordings, handle the bumps and jolts of the road, and even survive temperature fluctuations without missing a second. These video solutions give your company a competitive advantage because you can grow your operations in an efficient, effective, and safe manner while also gaining a high return on investment (ROI).
How Dash Cams Work with Your Fleet Management System
Dash cameras attach to the interior of a vehicle's dashboard, or in some cases, the rearview mirror. Other types of cameras include rear, front, side, interior, and exterior, depending on your fleet's needs. One of the most crucial aspects of investing in a dash cam solution is the ability to integrate it with your current Electronic Logging Device (ELD) system. The integration allows you to remotely access video surveillance from your entire fleet.
Many dashboard cameras have GPS systems embedded in the footage and record in high definition. Some may even have integrated wide dynamic range technology, which allows you to capture details such as license plate numbers and other specifics.
These video cameras can also operate on battery power or through the truck's electrical system and record a continuous stream of footage. Through cloud-based technology, managers can access and monitor recordings in real-time. Dash cams can even record and save telematics, such as speed and driving routes, as well as specified events like hard stops, accidents, and deviations.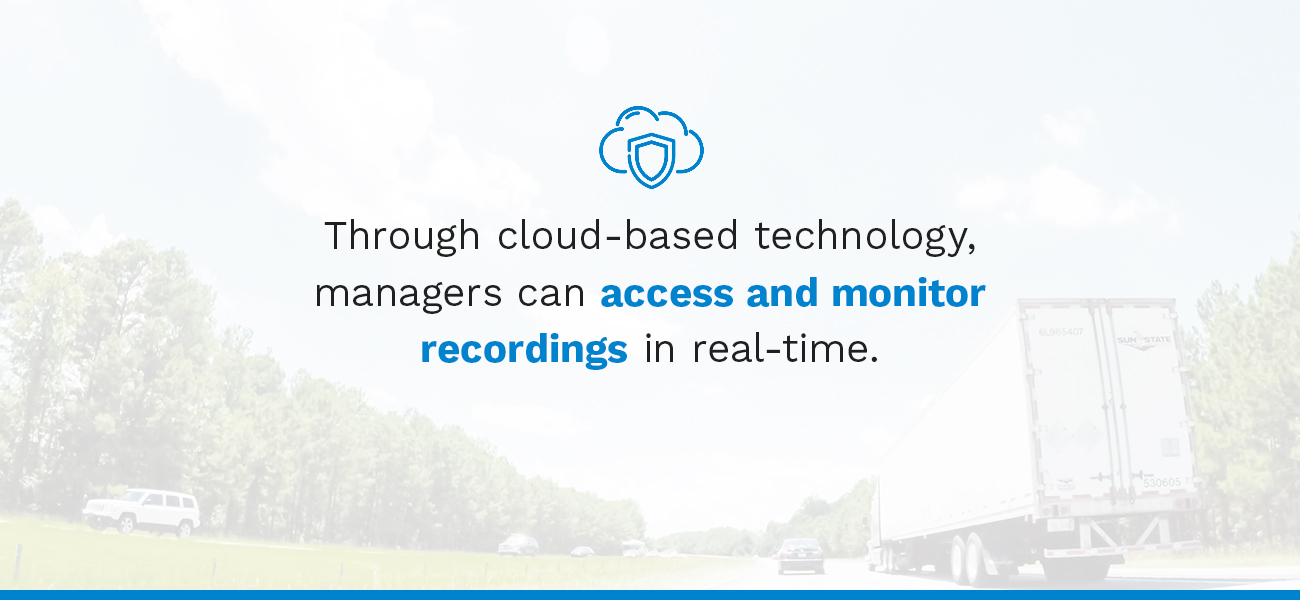 Benefits of Dash Cams for Fleets and Risks of Not Using Them
The benefits of fleet dash cams far outweigh any disadvantages because they increase your ROI. Several other benefits of dash cams for fleets include the following:
1. Accurate Video Footage
Dashboard cameras provide accurate footage of accidents, which can possibly support drivers who are blamed for a crash and help them disprove faulty claims. Having accident evidence and the ability to quickly process insurance claims are two essential benefits of having fleet dash cams.
Filing insurance claims takes a notoriously long time, so having real-time footage can quicken the process and reduce downtime within your operations. You or your driver can remotely download the necessary video cam footage on any device and quickly have proof of what happened.
During accidents, dash cams act as an impartial witness to incidents that occur in and out of your company's vehicles. Aside from accidents your drivers are in, dash cam footage can also be a witness for instances caught on video that don't pertain to the driver. For example, some dash cams also continue to record while the rig is in park, which can be helpful in theft cases or hit and run accidents.
2. Fraud Prevention
Crash scams and fraudulent incidents are an unfortunate reality in every industry. Outfitting your fleet with dash cams can save your company from negative instances like this. With detailed video records, you can present evidence if a driver is involved in a crash scam or fraud, which are most prevalent in fleet vehicles compared to personal vehicles because scammers know which companies have more money behind them.
For example, cash-for-crash scams are when a driver passes a vehicle and slams on the breaks as they merge into the vehicle's lane, purposefully causing an accident. Dash cams are the best proof for staged accidents like this and reassure drivers they are safeguarded from false claims.
3. GPS Integration
GPS integration within dash cams gives fleet managers real-time vehicle locations and insights into other driver aspects. With the ability to access truck locations at any time, you can ensure your drivers are sticking to predetermined routes and remaining on task throughout the day. You can also check fuel usage or keep track of personal miles if necessary.
GPS location also allows you to provide faster routes and improve other areas to keep your business efficient. In emergency breakdowns, dash cams can help you locate a broken-down rig or translate the location to authorities.
4. Improved Safety and Driving Performance
Beyond hiring trustworthy drivers and training them, there is always room for improvement. With a reliable dash cam set up in each of your vehicles, accurate footage can help you determine which drivers may need additional training. You can monitor their performance and have the system make notifications when things like hard braking, sharp turns, or harsh acceleration occur. Fleet dashboard cameras keep drivers accountable, more cautious, and focused. Essentially, it can inspire better behavior and encourage more defensive driving.
You and other fleet managers become an objective witness to driving instead of making assumptions, helping you know when retraining is necessary for specific drivers. You can provide one-on-one coaching to those who need practice with soft breaking and turns or safer speeds and other driving techniques. These benefits also keep drivers more focused and on task knowing each move they make counts and gives them an extra level of security. Drivers are more apt to be cautious, keeping them safe and out of accidents.
5. Reduced Costs and Litigations
Along with better driving performances, your company can also reduce litigations and costs. Injuries, repair costs, worker's compensation, and other issues can rack up money and time. With the right training and dash cam data, you can keep these expenses to a minimum. Some insurance companies also reduce your premium if dash cams are installed.
The risks of not using fleet dash cams can take a heavy toll on your operations. Your expenditures will increase if accidents and crash scams occur, putting drivers at risk and reducing company uptime.
Our Dash Cam solutions
We're here to help you understand how fleet dash cams work in fleet management areas and why fleets should install dash cams. With more than 80 years in the trucking innovation industry, we have a full line of fleet management systems to help your company succeed and grow.
We partner with you to help find the best dash cam system for your operations that also aligns with your budget.We have a hands-on approach in supporting you, so your transportation business can worry less and focus more on safety and efficiency.
Request Dash Cam Pricing
Reach out to us online to request dash cam pricing or call us at 800-789-6277 to learn more about our solutions and how you can demo one of our systems.
Contact Rand McNally
Request Pricing for Fleet Solutions
---
We're looking forward to talking with you. Please fill out the form to get started.
Or call us:
+1 (800) 789-6277 (Fleet management, ELD, Asset tracking, Navigation)
+1 (800) 234-4069 x2 (MileMaker/IntelliRoute)


If you are an existing customer and need assistance, please contact your Client Success rep or email fleetsupport@randmcnally.com.

This form is for business-to-business transactions only. It is not for personal consumer use.