How to Improve Fleet ROI
Your company makes many investments, but none may be as important as your ongoing investment in your fleet. Whether you deliver products, move materials, or even transport people, your fleet is the cornerstone of your business.
With this in mind, you want your fleet to be as profitable as possible with a strong return on investment (ROI), but how can you be sure the money you're making is justifying your costs? Measuring your fleet ROI will give you the numbers and information you need to check if you're on track to meet your business goals.
How to Measure Fleet ROI
Every business has room to improve and increase fleet ROI, but you first need to know which metrics to track and how to use data to your advantage. With the right data, you'll know how much you're spending on your fleet and where you can make improvements to cut costs and increase efficiency.
The first step to calculating fleet ROI is knowing where to look for your data. There are specific metrics that give you a better understanding of the level at which your fleet is operating. The right data can make a huge impact on the choices and changes you make to increase fleet ROI.
The second step is having the right tools to collect and organize your data to make it useful and actionable. Knowing where to look is one thing, but being able to record and process the right data will give you the insight you need to begin improving your fleet ROI. We'll take a look at some tips for improving fleet ROI — with these, you can know where to look for your data, how to record it, and how to use it to your advantage.
1. Improve Safety & Reduce Accidents
When measuring fleet ROI, one of your top priorities should be driver safety. Knowing how many safety incidents occur in a given period can give you a better picture of how your drivers are behaving and where your money is going. Safety incidents are costly, and reducing them can open up your budget and increase your profits.
You can use the data you gather to know which drivers need retraining for fewer safety incidents. This can also decrease your insurance premiums, lowering your monthly costs. Don't treat safety incidents as an inevitability. Track the data and make changes so you can enjoy a greater ROI.
2. Start a Preventative Maintenance Program
Vehicle and equipment maintenance is another constant part of running a successful fleet. Vehicles and equipment break down and need time in the shop to get up and running again. You can use fleet data to stay one step ahead of breakdowns and increase your ROI.
With preventative maintenance, you put your vehicles and equipment in the shop before malfunctions occur. You can keep track of their maintenance history and address problems before they interrupt your operations. Your veihcles and equipment are some of your company's most valuable assets, so limiting wear and tear through preventative maintenance is one of the best ways you can take care of them. You can see your profits increase as their time in the shop decreases.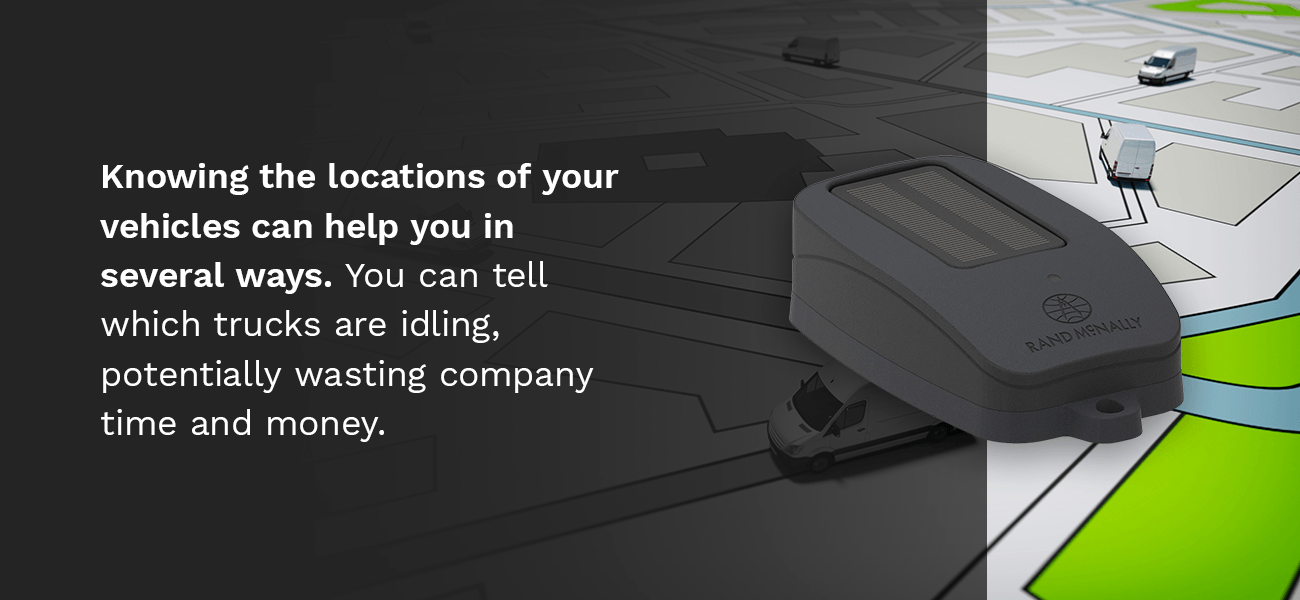 3. Track Your Assets & Vehicles
When you track your fleet, you'll know where your vehicles, equipment, and other assets are at all times. With this infomation you'll enjoy greater productivity, fewer losses, and an increased ROI.
Knowing the locations of your vehicles can help you in several ways. You can tell which trucks are idling, potentially wasting company time and money. You can determine the fastest route to your destinations to save fuel and reduce time on the road. You can even ensure you're meeting your schedules and sending the right drivers for every job. Tracking your assets and vehicles can bring immediate financial benefits for your business and strengthen your operations.
4. Use Technology to Automate Your Processes
To properly increase your fleet ROI, you need to collect data from specialized hardware and use it to implement changes in your processes. To do this, you'll need to integrate your hardware with fleet management software
With fleet management technology, you can track the following:
Vehicle locations and speeds
Maintenance reports, schedules, and costs
Driver safety compliance
Fuel efficiency and cumulative costs
Idle time
With this information, you can then begin automating your fleet processes to save time and increase your fleet ROI.
5. Use Your Data
Once you have your data, you can use it to increase your fleet ROI. Here are some ways you can use the data you collect:
Find the Fastest Routes:

Real-time

location data and GPS tracking

can help you find the best routes for your drivers.
Prevent Costly Repairs:

With maintenance records and reminders, you can make sure each vehicle and piece of equipment in your fleet gets the attention it deserves to keep it running for years to come.
Reduce Accidents & Safety Violations:

Use fleet data to know which drivers are compliant with safety protocol and which are not. You'll know who needs extra training to make sure all your drivers are safe, reducing safety violations and costly accidents.
Save On Fuel:

Fuel is costly, use fleet data to know where you're consuming too much of it.
Increase Efficiency:

Idle time, long routes, and absent drivers can lower your fleet's productivity. With fleet data, you can pinpoint these instances and put a stop to them to get your team back on track.
How Fleet Management Software Can Help
Fleet management software — like the Rand Platform — can help you make sense of the data you gather. The hardware you install on your vehicles, equipment, and assets sends data to a software program that visualizes it on a computer, tablet, or phone screen. With charts that are easy to navigate and read, you can know how your fleet is performing at any given moment.
With the Rand Platform, you can customize what you see, allowing you to tailor your experience to suit your needs. If your weekly fuel costs are important to you, you can make that information front and center. If you need to keep track of monthly safety violations, that information can be readily accessible. It's all possible with the help of fleet management software.
Data can be overwhelming. The right software program will sort this data and display it in a way that works for you. With fleet management software, you can pinpoint your expenses and know where your money is going. Then you can use that knowledge to help you make changes where they're necessary and increase your ROI one step at a time.
Discover New Ways to Increase Fleet ROI
With over 80 years of experience, we know what it takes to run a successful fleet and increase fleet ROI. That's why we're always striving to create new products and solutions to meet your unique fleet needs. Contact us online to request pricing and learn more about how we can help your business increase it's ROI with our fleet management software and fleet hardwear solutions.
Contact Rand McNally
Request Pricing for Fleet Solutions
---
We're looking forward to talking with you. Please fill out the form to get started.
Or call us:
+1 (800) 789-6277 (Fleet management, ELD, Asset tracking, Navigation)
+1 (800) 234-4069 x2 (MileMaker/IntelliRoute)


If you are an existing customer and need assistance, please contact your Client Success rep or email fleetsupport@randmcnally.com.

This form is for business-to-business transactions only. It is not for personal consumer use.