Digital Transformation & Fleets
As technology evolves, more and more industries are using it to transform their processes and improve their operations. In the fleet industry, digital transformation can significantly improve delivery times, customer satisfaction, sustainability, security, and cost-efficiency. Learn how implementing innovative technology allows fleets to work more efficiently while increasing company revenue.
What is Digital Transformation?
Digital transformation implements new processes, technologies, and talent to transform existing business operations or create new ones. It helps businesses keep up with or outperform their competition and can increase customer satisfaction. Digital transformation represents a new perspective on how a company utilizes personnel, processes, and technology.
When a business owner or manager engages in digital transformation, they use technology to reimagine how they operate their business and engage with customers. The digital transformation process is the act of strategically integrating technology into business operations to improve results and outcomes. This technology can help companies simplify their processes to save time and money while delivering excellent customer results.
What is the Role of Digital Transformation in Fleet Management?
Digital transformation is making fleet management processes more efficient. Digitalization can help you adapt to changing technologies and remain competitive in the industry. Implementing digital transformation requires a focus on technology, security, processes, and people. You must also execute strategies and deliver results using tech-forward ideas. Digital transformation focuses on the following categories:
Spend Optimization & Supplier Management: A company carries out spend optimization and supplier management through the use of category analytics, advanced spend intelligence, and end-to-end sourcing.
Process Automation & Optimization: Digitalization allows companies to optimize and automate their processes. For example, predictive maintenance planning and real-time fleet management let companies make faster decisions based on real-time data.
Network Strategy: Network strategy involves data-driven timetabling and advanced simulations.
People Management: Managing your workforce can include digital performance management tools, automated tasks, shift allocation to manage maintenance crews, and predictive demand forecasting to manage field workers.
With technology and innovative solutions, fleets can reduce costs and operate more efficiently.
Benefits of Digital Transformation for Fleets
Digital transformation for fleets can significantly improve fleet management processes, sustainability, efficiency, and customer satisfaction. Digitalization works toward goals like:
Fast and interactive delivery.
Focusing on customers.
Building differentiating capabilities.
Maintaining employee productivity and engagement.
Companies can transform their fleets with the following benefits when they implement innovative ideas and technology into their processes.
Sustainability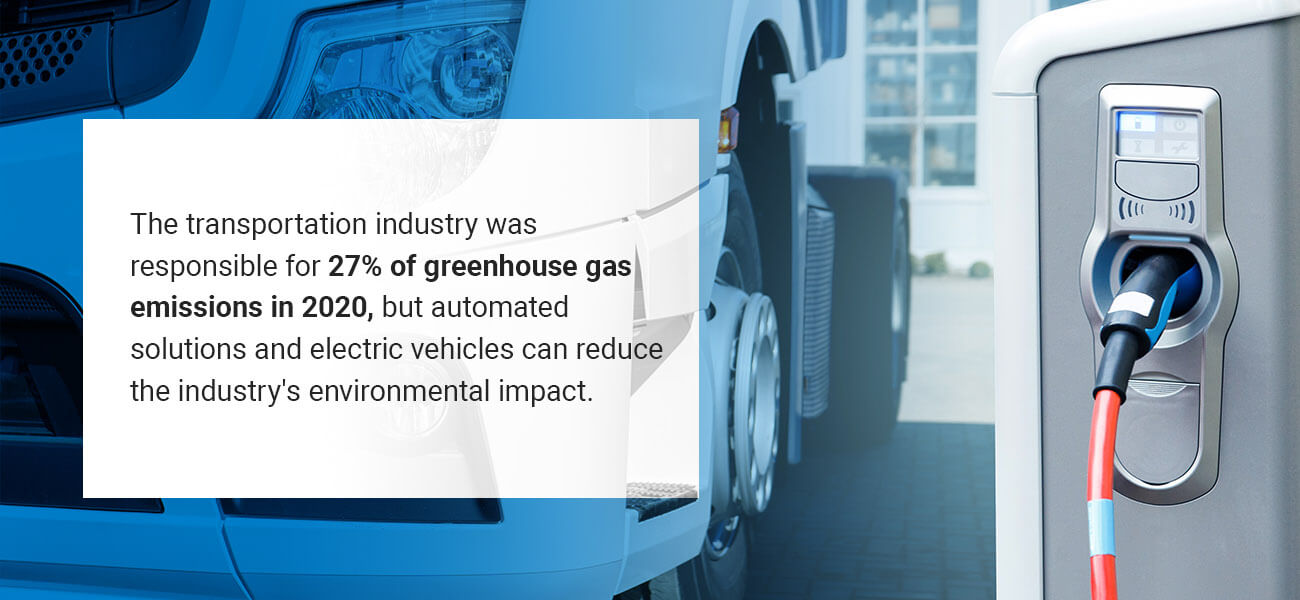 The transportation industry was responsible for 27% of greenhouse gas emissions in 2020, but automated solutions and electric vehicles can reduce the industry's environmental impact. Businesses and consumers value sustainability and are more likely to work with or purchase products from green companies. As a result, sustainable transportation companies are more likely to outperform other companies.
Electric vehicles can significantly reduce a fleet's emissions, and automation can reduce or eliminate waste. Automating processes can help drivers travel the most efficient routes to minimize idling, reduce driven miles and deliver freight faster.
Labor Shortage Solutions
Like other industries across the country, the fleet industry faces labor shortages. However, the digital transformation of fleets can offer solutions to this challenge. Self-driving trucks using AI algorithms, smart sensors, and cloud computing can potentially deliver freight without human intervention and eliminate the need for drivers. While this technology is still in the testing phases, it could significantly transform and benefit the fleet industry in the near future.
Cost Efficiency
The digitalization of fleet management can help fleet companies reduce costs. Finding the fastest and most efficient route can be labor-intensive and time-consuming, but technology can offer a solution. Route optimization platforms can automate this process and determine the most efficient routes by calculating the following factors:
Starting and ending points
Number of stops
Speed limits
Delivery numbers
Facility and driver schedules
Number of intersections
Number of right and left turns
Legal requirements
Route optimization technology can help drivers travel and deliver freight faster, reducing gas consumption, maintenance costs, and driving hours. Businesses can save money on labor, gas, and vehicle repairs with this technology. Digital transformation can also simplify communication processes, helping companies save time and money on administrative needs.
Increased Security
Digitalization can increase fleet security. Sensors can provide real-time data to track vehicle locations and prevent theft. With this technology, companies can stop the engine of a stolen truck remotely to reduce monetary losses and risk. Technology that tracks driving behaviors such as hard braking and fast accelerating can also increase safety by encouraging drivers to follow safe driving guidelines.
Supply Chain Traceability
Digital transformation in fleets can also increase supply chain traceability. Manufacturers, retailers, and consumers all like to know where products come from and how they are transported. Sensors and other Internet of Things (IoT) devices can make it easier to track goods during transportation. This technology provides accurate tracking updates and data about transportation conditions so companies can provide accurate updates to consumers and retailers.
Increased Customer Satisfaction
When businesses combine digital transformation and fleet management processes, they ultimately increase customer satisfaction. Improved traceability and faster delivery times allow companies to effectively communicate with customers and provide for them in a timely manner.
Consumers who feel informed and receive their products when expected are more likely to purchase from a company again and recommend it to others. Building a reputation for reliability helps fleets gain a competitive edge in the industry.
Digitize Your Fleet with Our Solutions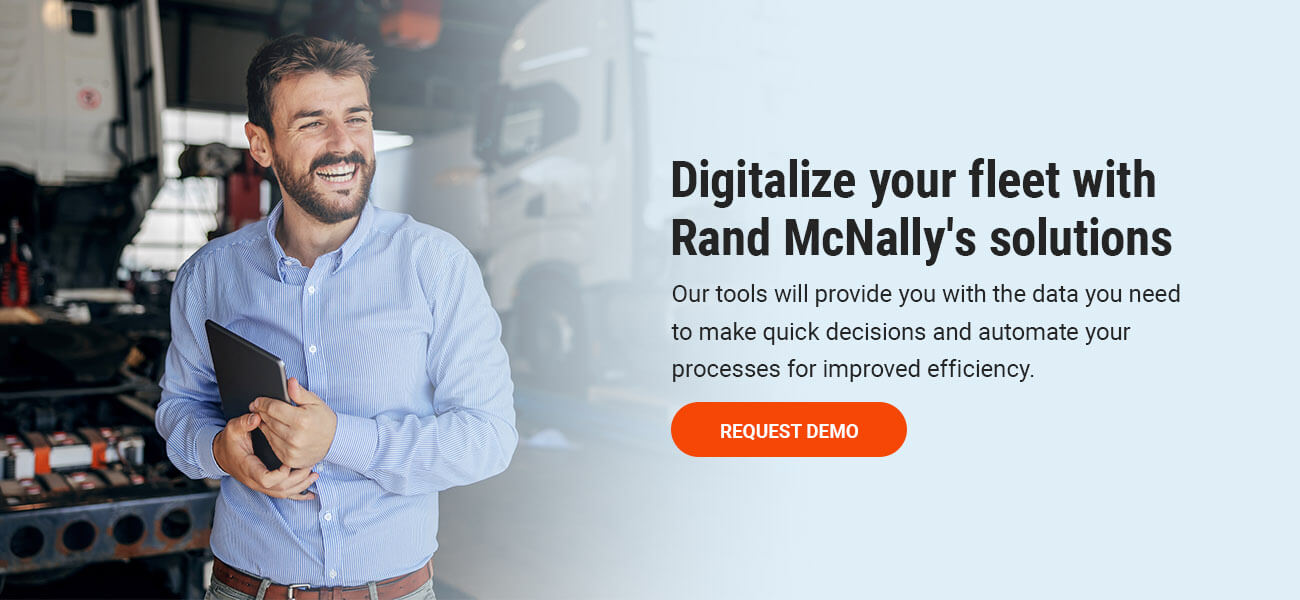 Digital transformation can significantly improve fleet management processes to reduce costs and increase customer satisfaction. Digitize your fleet with our fleet management platform. Our advanced video telematics technologies can help your company exonerate drivers and prevent potential incidents on the road.
Track your assets and vehicles with quality fleet management telematics that provide real-time data and valuable information and customize your data for solutions that accommodate your budget. With our fleet management solutions, you can quickly meet your customers' needs while saving time and money.
Our tools will provide you with the data you need to make quick decisions and automate your processes for improved efficiency. Contact our team to request pricing and learn more about how we can help you optimize your fleet management processes.
Contact Rand McNally
Request Pricing for Fleet Solutions
---
We're looking forward to talking with you. Please fill out the form to get started.
Or call us:
+1 (800) 789-6277 (Fleet management, ELD, Asset tracking, Navigation)
+1 (800) 234-4069 x2 (MileMaker/IntelliRoute)


If you are an existing customer and need assistance, please contact your Client Success rep or email fleetsupport@randmcnally.com.

This form is for business-to-business transactions only. It is not for personal consumer use.