… on Route 66!
Oh boy, we have so much to share with you.  Fort Leonard Wood, Missouri has been an absolute treat and we had a very busy and exciting day.  We were able to watch a few training drills, experience just a taste of what it's like to go though the gas chambers (our eyes are still burning), have lunch with the Commanding General, see firefighters reunited with their loved ones after a year in Afghanistan,  and have a delicious meal at a popular local bar.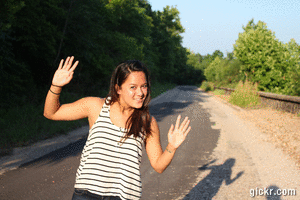 In other news…
Yesterday we reached a BIG milestone on the Captain and Clark front.  Chris would like to publicly thank Rand McNally and USA Today for this amazing opportunity.  It is because of this rally that Chris has finally (after many years) made it to his 50th state- Alabama!
A celebratory jig was in order (obviously).                                                 
Alright y'all, there will be much more to report tomorrow- and depending on our internet connection, we might even have a video or two.
Keep on exploring (and dancing),
Captain and Clark